Patchwork of Fabric Mix
Posted on
Try with us a simple patchwork of pre-prepared Fabric Mix - 5pcs of fabric 30x30cm from our offer. Sew a pillow with us, or use it on a bag, or a combination with other parts for a larger quilted type project.
Pro vytvoření tohoto projektu použijte předpřipravený Látkový mix obsahující 5 kusů amerických bavlněných látek s rozměrem 30x30cm. Tyto balíčky naleznete v kategorii Látkové balíčky zde: http://www.dumlatek.cz/katalog/latkove-balicky-1/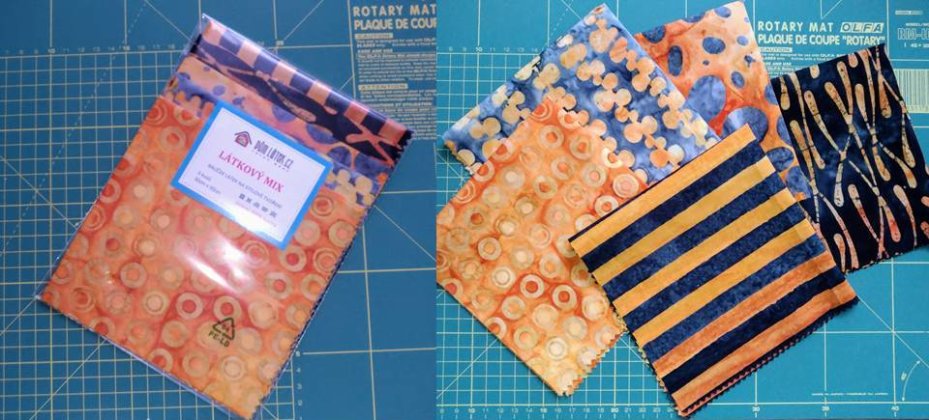 Všech 5 ks látky z balíčku rozřežeme řezákem na 2 pruhy široké 10cm a dva pruhy široké 5cm. Dva pruhy o šíři 10cm rozřežeme na čtverce 10x10cm. Z obou 10cm pruhů tak máme 30 čtverců 10x10cm. Jeden pruh o šíři 5 cm (od každé látky) rozřežeme na čtverce 5x5cm, máme tedy 30 čtverců 5x5cm. Od každého dezénu nám zbyde 1 nerozřezaný pruh 5x30cm.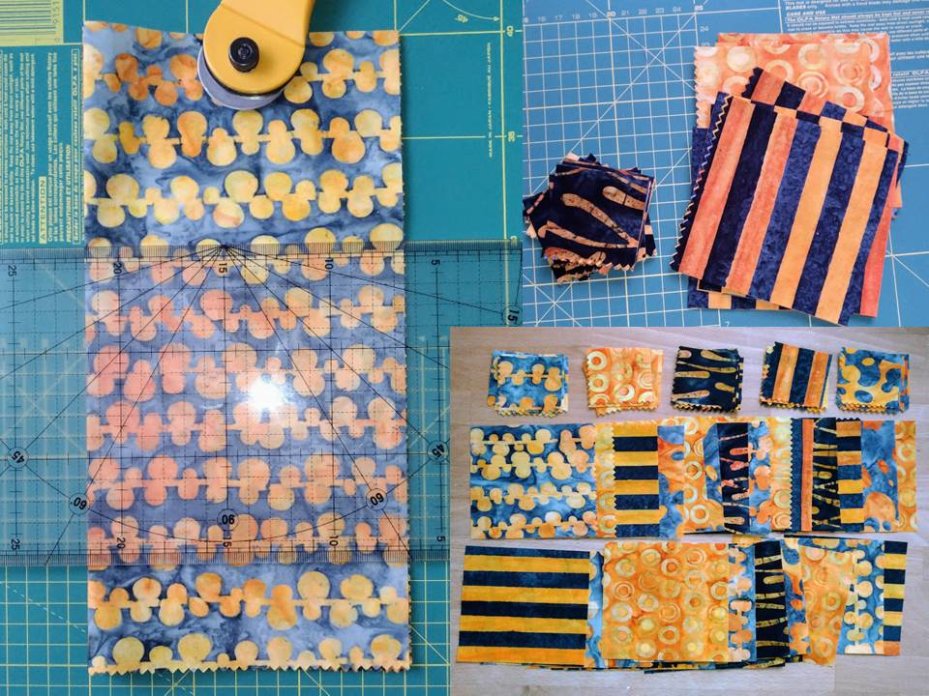 Nyní již máme vše připraveno k tomu, abychom mohli začít šít. Položíme na sebe vždy lícem k líci dva čtverce 10x10cm. Na vrchní rubovou stranu čtverce narýsujeme uhlopříčku a čtverce prošijeme z obou stran podél uhlopříčky na šíři patky. Takto prošijeme všechny čtverce 10x10cm, kombinujeme k sobě vždy dva odlišné dezény.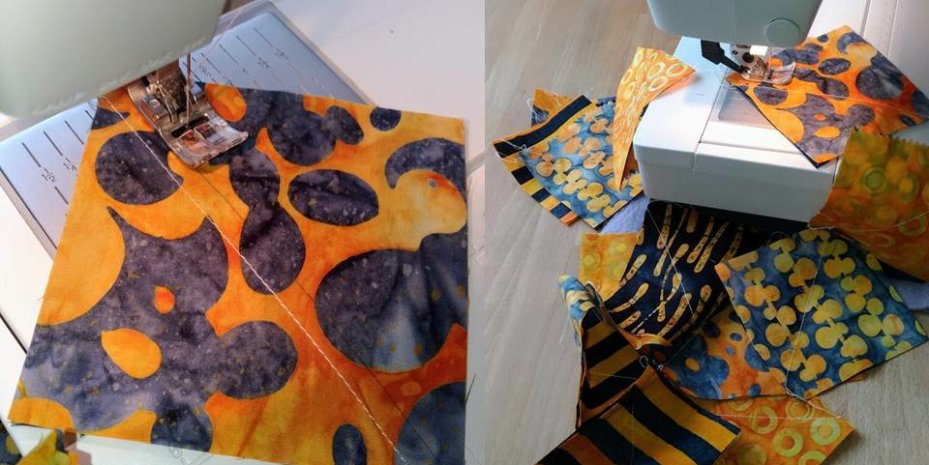 Všechny čtverce po diagonále rozřežeme a rozžehlíme sešité trojúhelníky opět do tvaru čtverce. Nyní máme vše připraveno k návrhu kombinací pro vnitřní trojúhelníky tvarů. Rozložíme si na stole všechny čtverce tvořené ze dvou trojúhelníků, na každý vnitřní trojúhelník pak položíme jeden malý čtvereček o velikosti 5x5cm. Můžeme kombinovat tak, že vnitřní trojúhelníček bude ve stejné barvě jako vnější, nebo třeba tak jako my tak aby vnitřní trojúhelníček měl jiný vzor než oba dva větší trojúhelníky.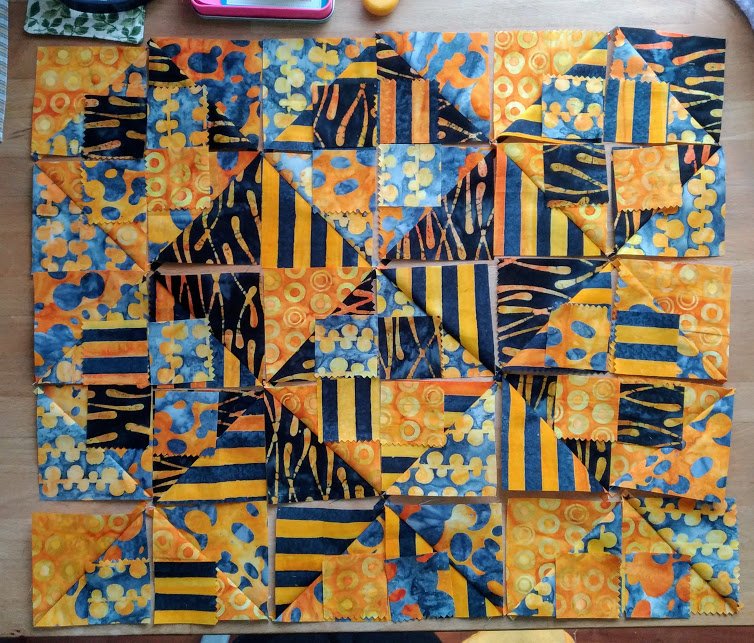 Nyní ušijeme vnitřní trojúhelníčky následujícím způsobem: malý čtvereček položíme lícem k líci na spodní větší čtverec a zarovnáme jej do spodního rohu dolního trojúhelníku. Narýsujeme do malého čtverečku uhlopříčku dle fotografií a PO UHLOPŘÍČCE (tedy nikoli vedle ní jako u předchozího postupu) prošijeme. Odstřihneme na šíři patky spodní část, rozžehlíme tak, aby nám opět vznikl tvar čtverce viz fotografický postup.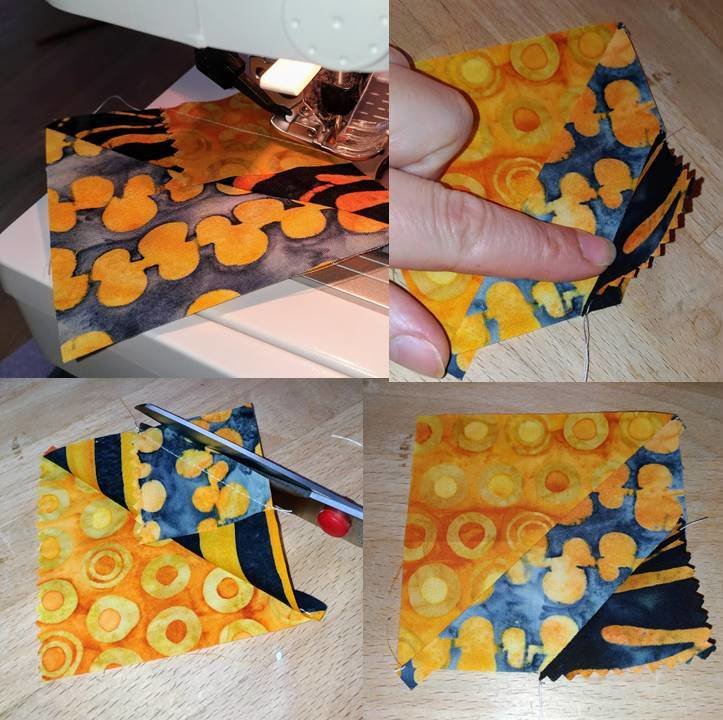 Nyní začneme sestavovat dohromady tvar čtverce ze 4 malých čtverců dle původního návrhu který jsme si udělali ještě před začátkem šití malých čtverečků. Sešijeme k sobě vždy dva čtverce nad sebou - položíme je lícem k líci na sebe a prošijeme na šíři patky po hraně. Pak k sobě přišijeme dva a dva sešité čtverce, nezapomeneme dbát na to, abychom měli nejmenší trojúhelníčky poskládány k sobě tak, aby společně tvořili kosočtverec. Takto sešijeme 6 velkých čtverců.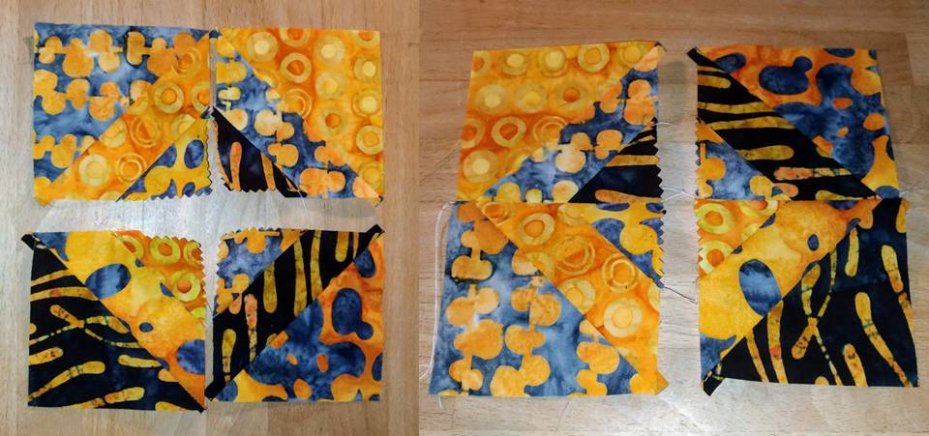 Nyní nám zbylo 6 nesešitých čtverečků, které sešijeme k sobě tak, aby nám tvořili jeden pruh, který je graficky polovinou velkého čtverce. Velké čtverce sešijeme po třech k sobě do řad o 3 čtvercích, tímto nám vznikly dvě řady tří velkých čtverců a jedna řada 4 na výšku polovičních "čtverců". Všechny tři řady sešijeme k sobě. Pokud budete šít z více Látkových mixů (či větších kusů látek), sešívejte k sobě vždy stejným principem - čtverce do řady a poté řady k sobě. Abychom dosáhli požadovaného čtvercového tvaru výsledného díla v našem případě, přišijeme na horní a spodní stranu pruh ze dvou sešitých proužků 5x30cm které nám zůstali nevyužity. Zda nakombinujete k sobě tři dezény, nebo čtyři, ve stejném poměru nebo třeba jako my je jen na vás :-)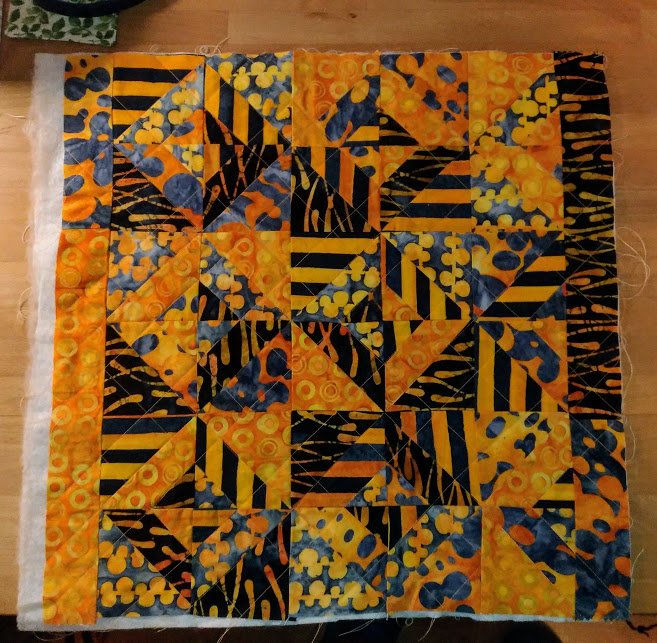 Pokud chceme motiv použít na polštář, podložíme vyžehlený dekor sakonem a ozdobně prošijeme - nezapomínáme na to, že prošití zajistí výsledné práci nejen stabilitu, ale také dotváří desing celku. Podle návodu na polštářek ušijeme polštář. Pokud chceme výsledný čtverec použít na prostírání, podložíme kromě sakonu také látkou na spodní stranu a dohotovíme stejně jako v článku Patchwork snadno a rychle. Krásné šití a ať se vám dílo zdaří :-)