Patchwork easily and smoothly III.
Posted on
Come try with us to try out another simple patchwork in our Patchwork series easily and quickly, according to a simple beginner's tutorial.
I tento postup je velice jednoduchý s kouzelným výsledným efektem, pojďte ho vyzkoušet :-)
Oba vzory jsou tvořeny 4-mi čtverci sešitými z proužků. Pro nejjednodušší přípravu můžete využít naše Látkové balíčky 5ks 30x30cm, které naleznete zde nebo kombinujte sami z bohatého výběru velmi kvalitních amerických bavln .
Čtverce 30x30cm nařežte na 5cm proužky, z každého čtverce tak máme 6 proužků.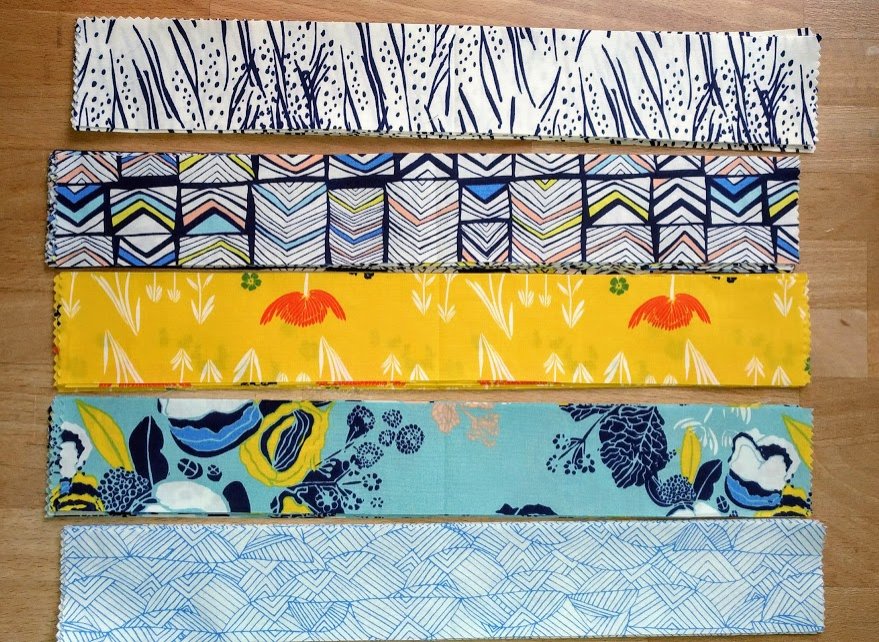 Další pomůcka, kterou budeme potřebovat, je arch kancelářského papíru. Upravte ho do čtverce, narýsujte jednu uhlopříčku, po obou stranách uhlopříčky odměřte 2,5 cm a narýsujete z obou stran čáru. Výsledkem je čtverec, přes který vede uhlopříčně 5cm široký pruh. Máme?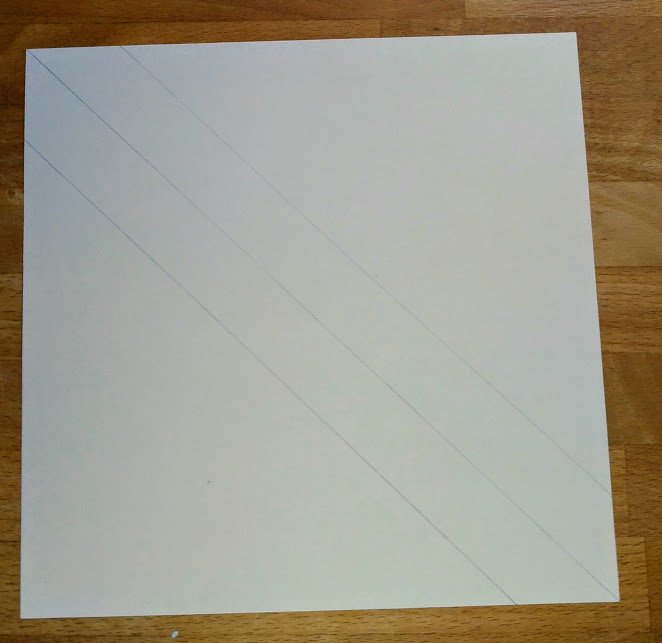 Perfektní. Nyní je na čase popřemýšlet o tom, jak bude výsledný patchwork vypadat. Pokud budete chtít vytvořit vzor "X" podle naší předlohy, budeme skládat proužky vedle sebe tak, aby na sebe barvy navazovaly. Pokud budete chtít vytvořit "diamant" můžete proužky skládat libovolně tak jako my, nebo naopak opět tak aby na sebe barvy navazovaly a vzor tak tvořil kosočtverce. Pokud již máme vymyšleno jak bude výsledek vypadat :-) můžeme začít se šitím prvního dílu. Všechny proužky k sobě sešíváme NA PAPÍRU ten tedy bude celou dobu přišitý k látkám, ale vůbec se toho nebojme, výsledek stojí za to. První proužek je středový. Položíme ho přesně do narýsovaného úhlopříčného proužku, rubem k papíru, lícem navrch a přišpendlíme.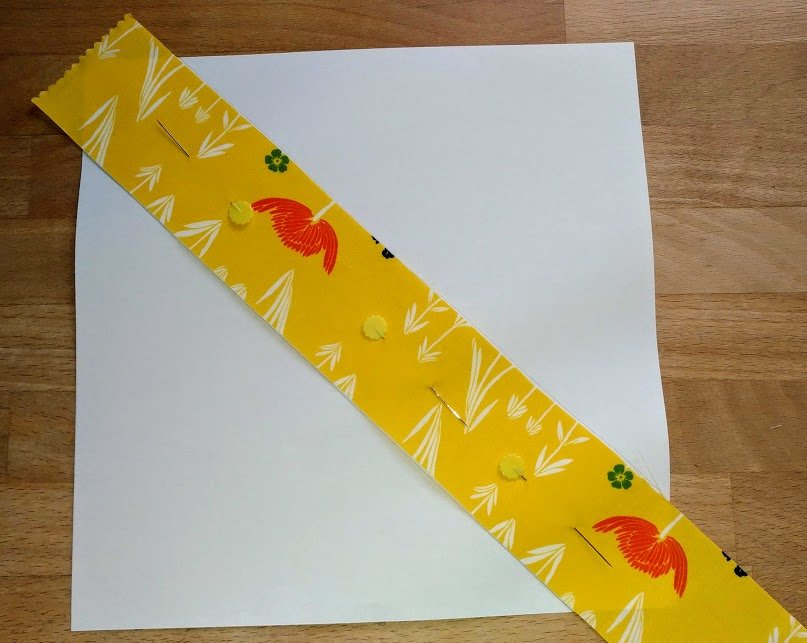 Nyní na středový proužek položíme druhý, který bude umístěn vpravo od něj a sice LÍCEM K LÍCI. To znamená, že se oba proužky překrývají, navrchu je rubová strana pravého proužku. Oba (včetně podkladového papíru!) sešijeme v pravém kraji k sobě.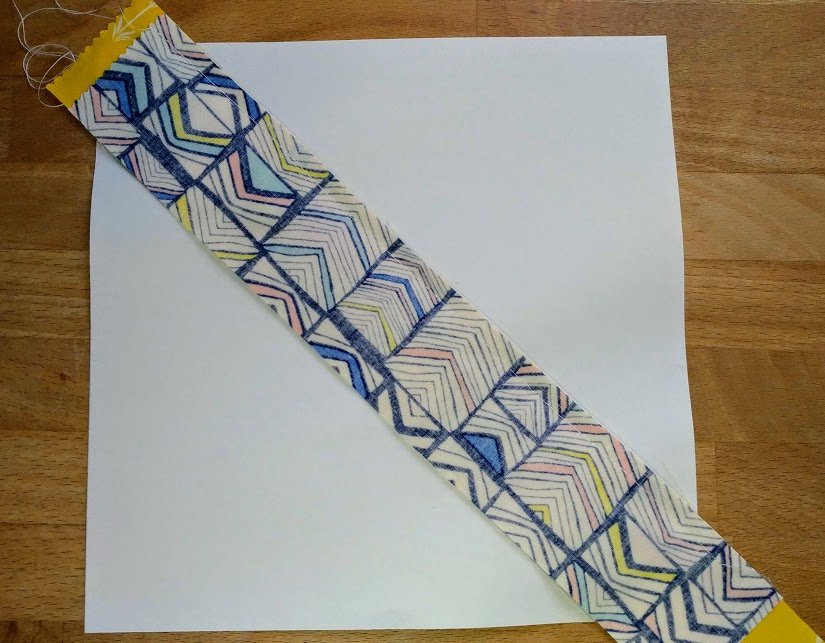 Odstraníme špendlíky a horní proužek rozložíme směrem doprava vedle středového. Nyní tedy máme k sobě přišité první dva proužky. Další postup je pak úplně stejný. Na pravý proužek položíme další, opět lícem k líci a sešijeme k sobě i s podkladovým papírem v pravém kraji k sobě. takto postupujeme dokud nemáme pravou stranu papíru pokrytou proužky látky.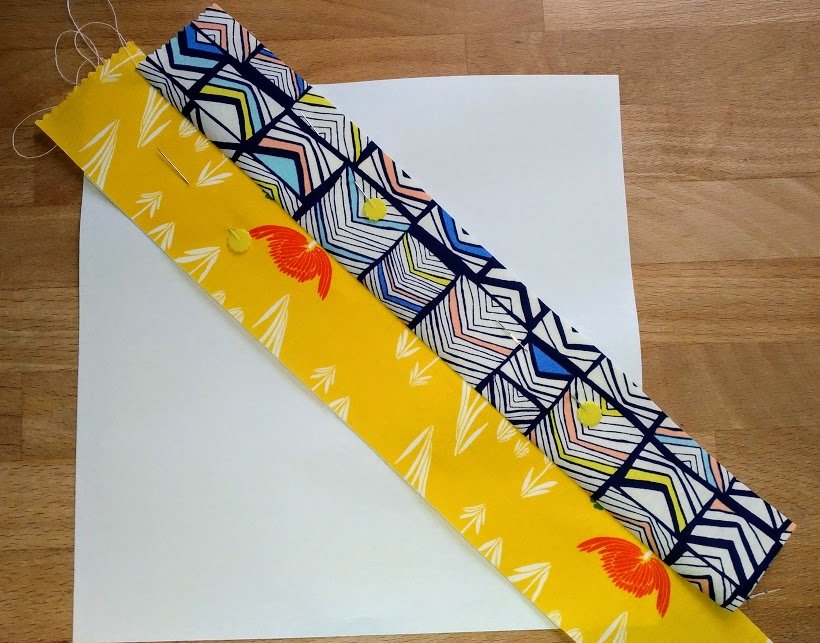 Je to snadné, že? :-) Jakmile máme jednu stranu hotovou, práci otočíme a stejným způsobem přišijeme proužky látky i na druhou stranu středového proužku. Nakonec máme tady celý podkladový papírový čtverec pokrytý. Na obrázku je rubový pohled na výsledek.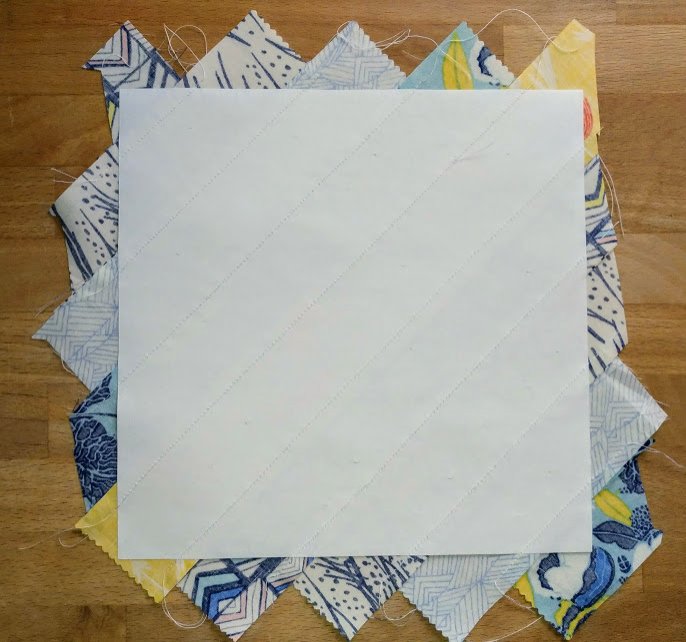 Nyní odstřihneme všechny přebývající kraje látky přesně podél hrany papírového čtverce. A z rubu začneme odstraňovat papír. Nám se osvědčilo postupovat od kraje, kdy krajový papírový pruh několikrát ohněte tam a zpět v linii švu, pak půjde krásně odtrhnout, prošitím je perfektně perforovaný jako okraj známky :-) opravdu to jde lehce. A vypadá to asi takto: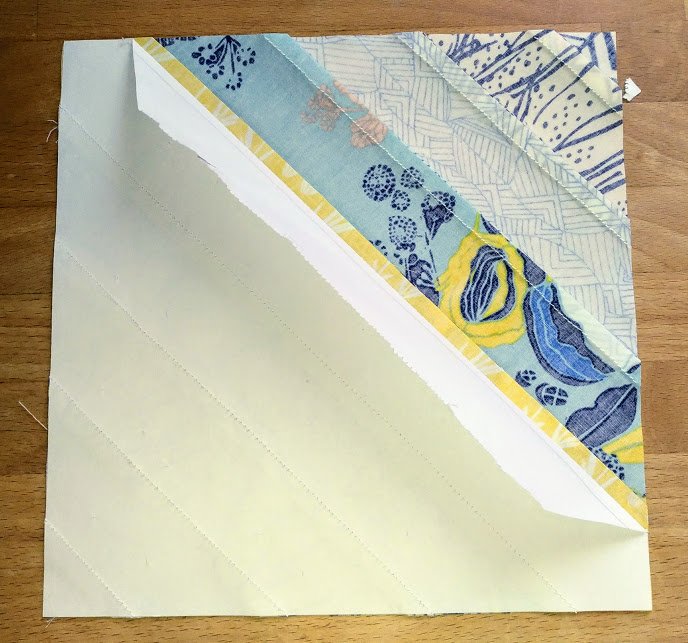 Výsledkem je krásný čtverec tvořený diagonálně sešitými pruhy. Nyní je načase ušít stejným způsobem další tři a poskládat k sobě pro výsledný efekt. Zde jsou možné kombinace ale věříme, že naleznete další :-):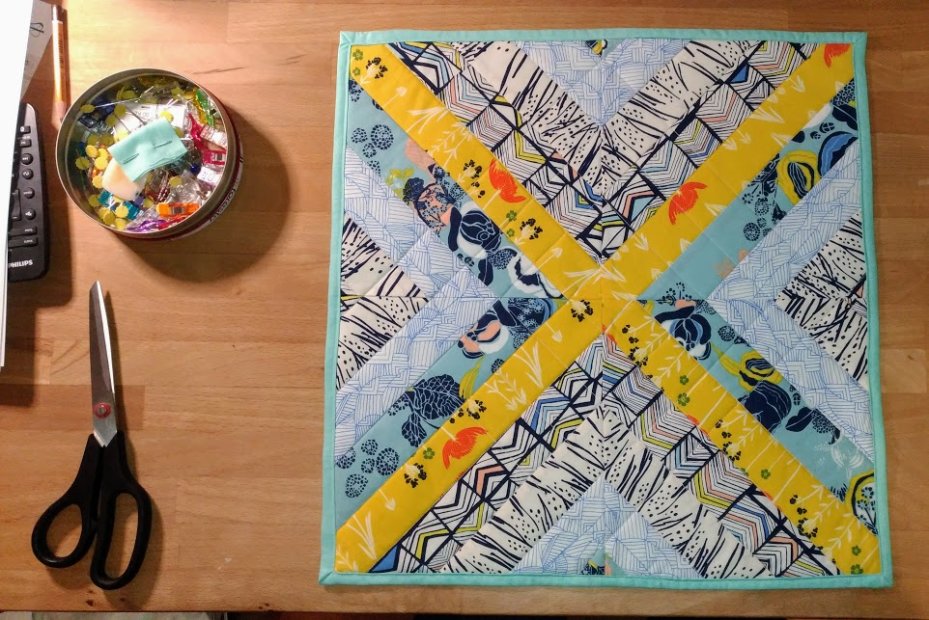 Opět můžete vzor použít na cokoli vás napadne, na tašku, polštářek, na větší deku atd.. my jsme použili na snídaňové prostírky pro dva :-) které jsou ze stejných látek, ale přesto nejsou stejné :-) Přejeme mnoho radosti z tvoření !!! :-) A pokud budete potřebovat poradit, jsme tu pro vás na info@dumlatek.cz