Part 5. Wheeled Skirt
Posted on
Come with us to wear a simple skirt that suits every character. Beautiful weather prompts you to do one of them. Here we go :)
1) U kolové sukně potřebujeme dva základní údaje - obvod pasu a délku sukně. Pokud měříme obvodové míry, přikládáme pod metr 2 prsty pro volnost. Délku sukně většinou měříme přes boky, jelikož ženský ohyb boků měřenou délku o 1-2 cm zkrátí.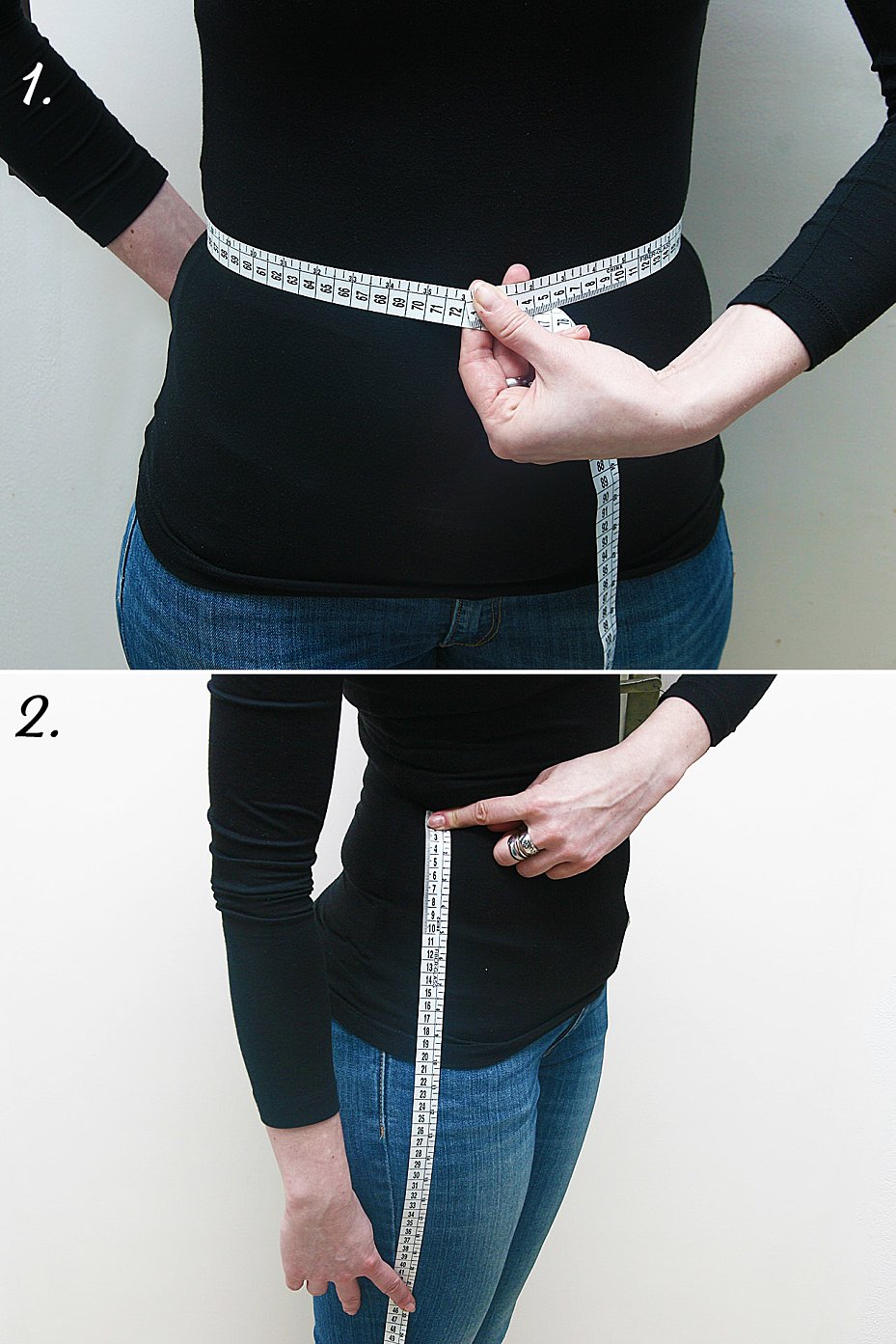 Základní kolová sukně se velmi jednoduše řečeno stříhá zkrátka tak, že uděláme kolo a uvnitř se vystřihne otvor pro pas, kam se dá přišít guma, nebo se udělá falešný šev, aby se mohl všít zip. Ovšem záleží na tom, jak dlouhou sukni chceme. Přes rozloženou šířku se požadovaná délka nemusí vejít. Proto vám ukážeme jak položit a naměřit sukni na víc dílů. Naše sukně se bude šít ze 2 dílů, které utvoří celé kolo.
2) Naměříme si přímo na látku otvor pro pas. Na toto nám pomůže lehký výpočet: OBVOD PASU / 3,14 / 2 = otvor pro pas, jeho polovina, protože budeme šít ze dvou dílů. například: 78 / 3,14 / 2 = 11 cm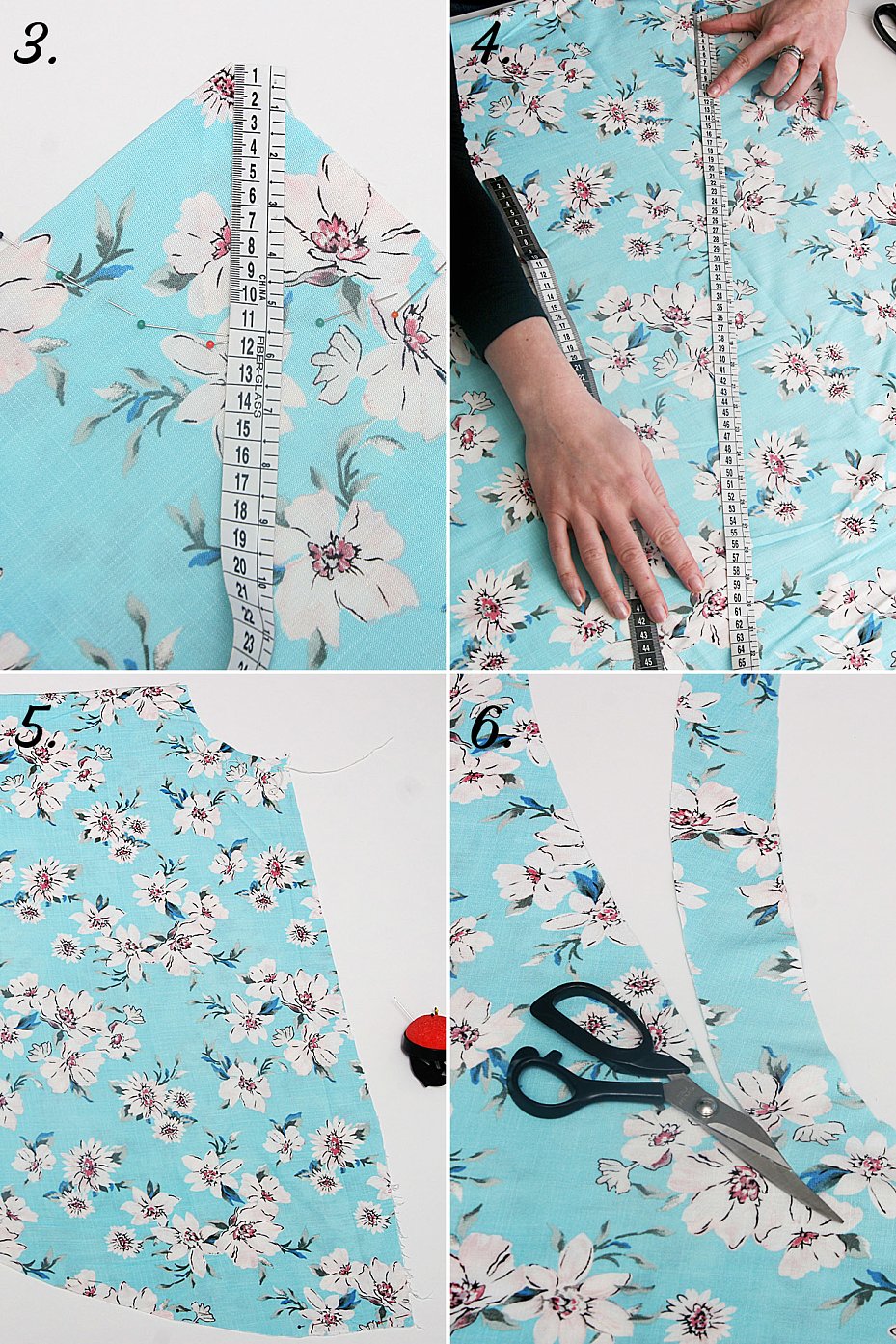 Pomocí metru tedy naměříme 11 cm od pomyslného středu sukně. Tímto nám vznikne ½ obvodu pasu. Kulatý tvar si pomocí předního kličkovacího stehu poznačíme na látku. Od této linie budeme měřit délku sukně. Zopakujeme postup ještě jednou a vystřihneme i druhý díl sukně. Použijeme kulatý tvar vystřižené délky a ustřihneme cca 7 cm široký zakulacený pruh, který nám později poslouží jako pasový límec – pásek a zavazovací stuha, takto vystřihneme u obou dílů.
3) Vzniklé díly sukně složíme na sebe lícem na líc a boční švy pečlivě zašpendlíme. Na jednom švu si od poznačené linie pasu zaměříme délku zipu, uděláme značku a tento šev nesešijeme až k pasu, ale jen ke značce zipu. Zároveň si složíme lícem na líc dva dlouhé vystřižené pasové límce okraji k sobě a sešijeme.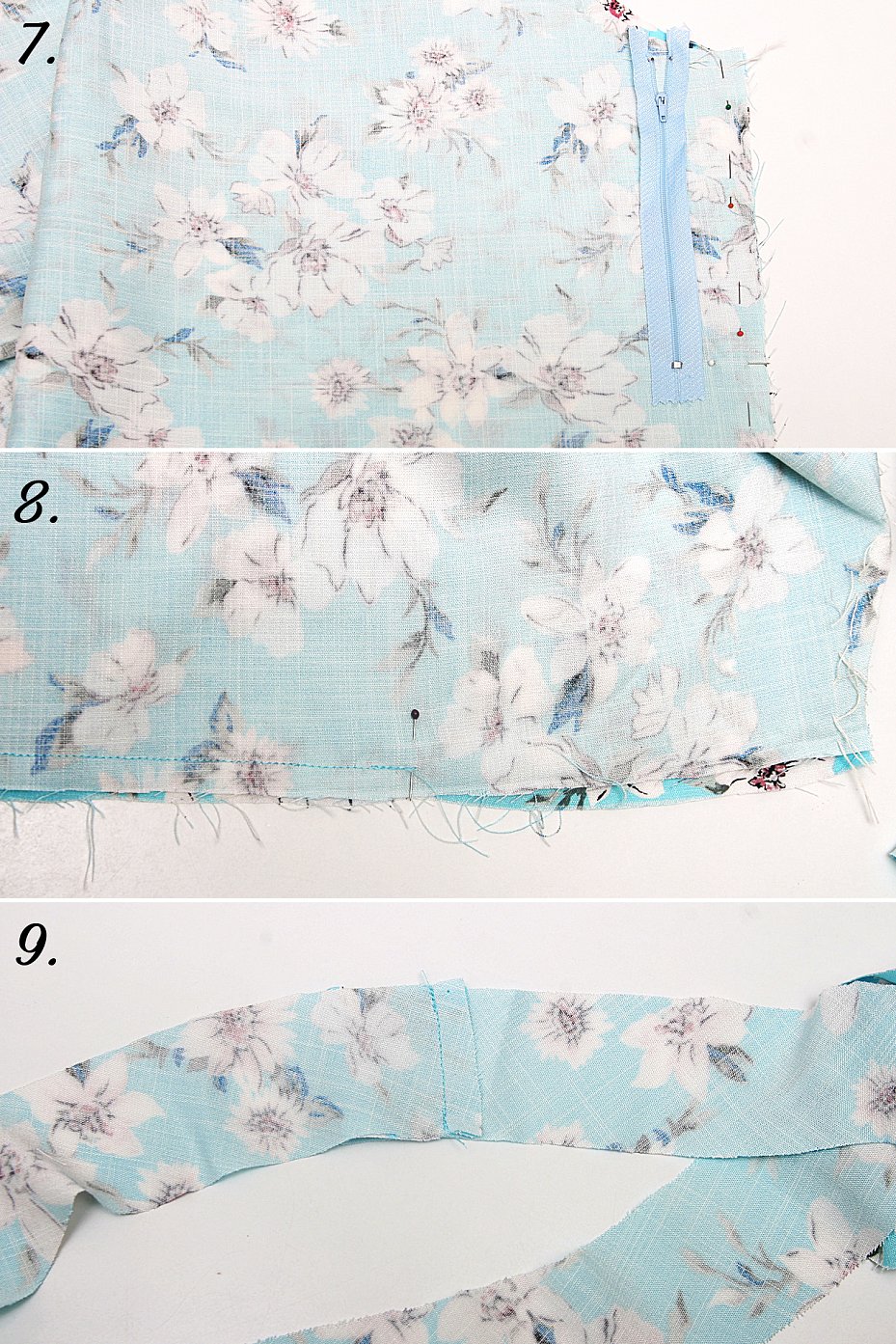 4) Švové záložky švů sukně zašijeme cikcak stehem. Pozor: šev nedošitý s ponechanou délkou na zip musíme začistit každou švovou záložku zvlášť! Zažehlíme švové záložky a tím vznikne pěkný začištěný otvor pro všití zipu.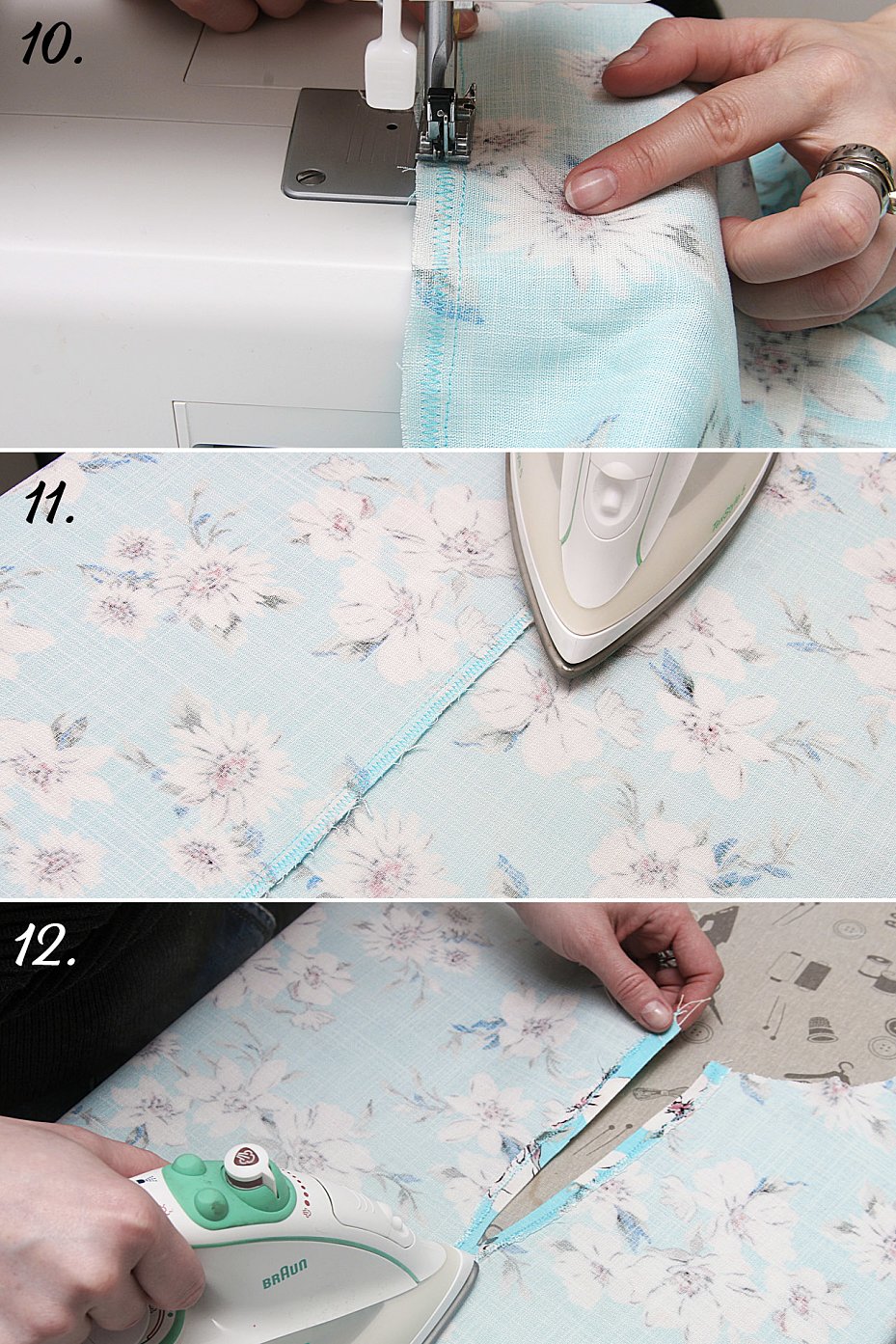 5) Postup všití zipu si už pamatujeme z minulých dílů, ale rychle si zopakujeme. Zažehlené okraje vzniklého otvoru urovnáme na zip tak, aby úplně schovaly zoubky zipu a zašpendlíme od shora dolů, opakujeme i na druhé straně. Zastehujeme po celé délce, aby se nám při přišívání zip ani látka nehnuly, a můžeme pomalu a pečlivě 0,5 cm od okraje začít přišívat, směrem od pasového okraje dolu po délce zipu. U konce zipu zapošijeme, na jehle zapíchlé v látce otočíme směr šití směrem k druhé straně zipu, zapošijeme a šijeme zpět 0,5 cm podél okraje zpět od spodu zipu k pasu. Vytáhneme stehovku a vyžehlíme.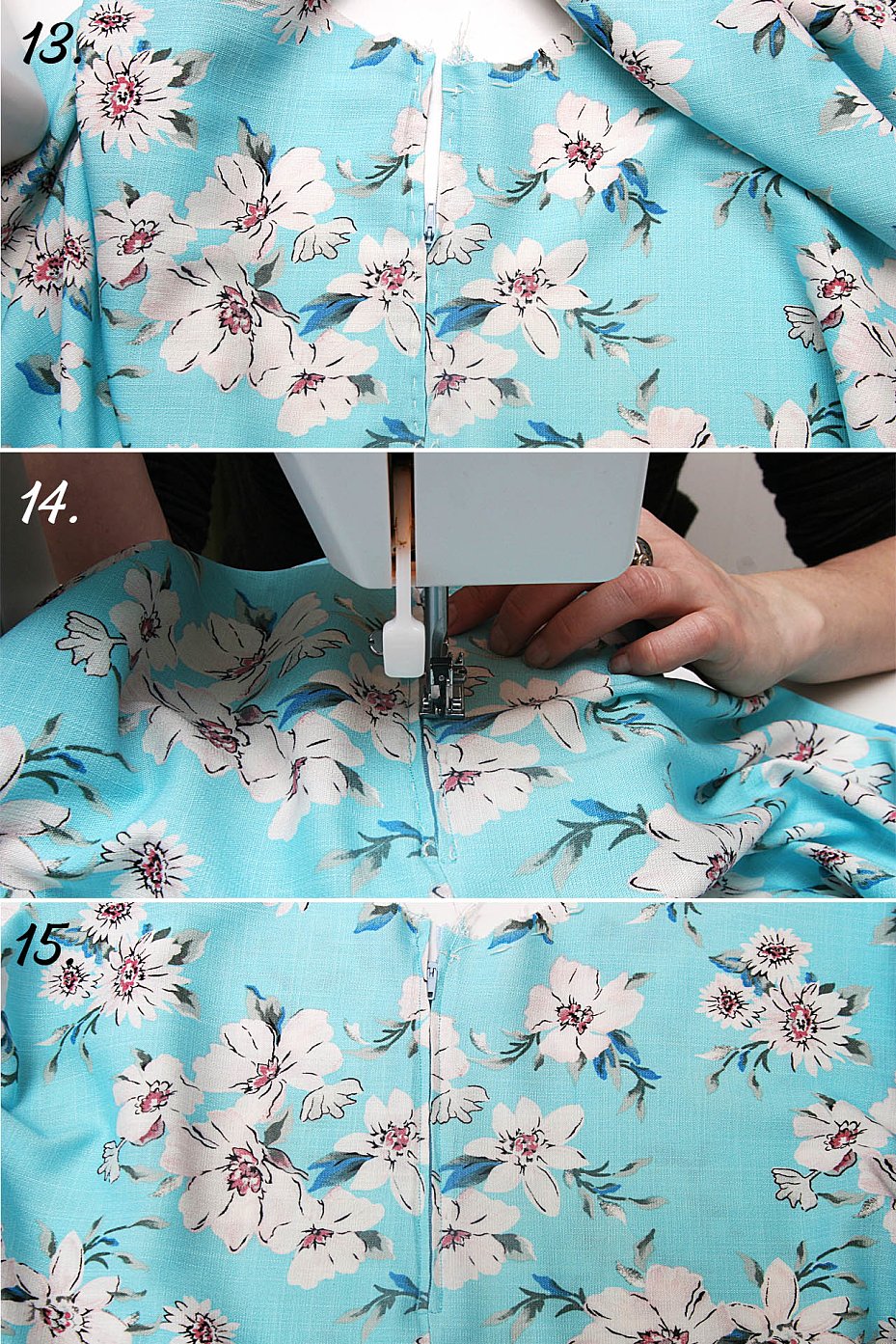 U naší sukně se bude sukně všívat do pasového límce, který je prodloužen do zavinovacího pásku. Pasový límec jsme si vystřihli do kulatého tvaru hned po vystřižení délky sukně. Takovéto pásky se kvůli zakřivení postavy nikdy nestřihají jako rovný pruh. Po našití by totiž od pasu odstávaly.
6) V první řadě si naměříme délku pásku = obtočíme si pásek okolo těla v dostatečné délce kolikrát chceme, uvážeme mašli a podle sebe si ustřihneme délku. Když přikládáme pásek na tělo, středový šev si dáme přesně na bok, kde bude i boční šev sukně, jelikož tyto dva švy složíme u přišívání na sebe. Vnitřní stranu pásku si zažehlíme, můžeme nechat jen začištěnou cikcak stehem, ale to záleží na tom, jak moc chceme mít rub sukně začištěný a na třepivosti látky. Když je látka třepivější, lepší zažehlit, aby byl okraj látky po našití úplně schovaný.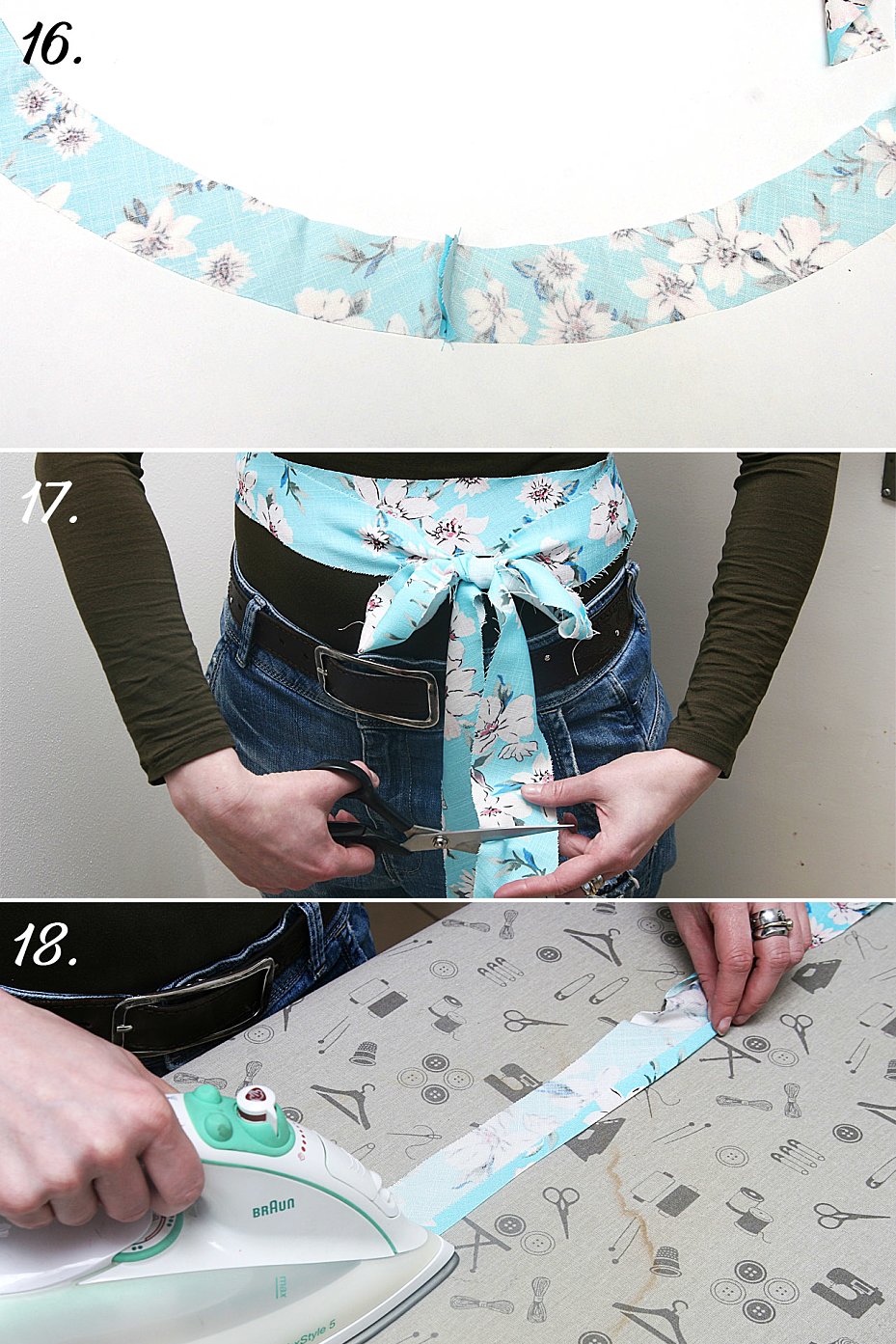 7) Pásek přišpendlíme za 1 cm k okraji pasu sukně nezačištěnou stranou. Bude se vám zdát zvláštní, že pokládáte do kulatého pasového otvoru pásek jakoby v protisměru, ale tak to je správně. Totiž po otočení nahoru se pásek dál zužuje a kopíruje tvar pasu. Po zašpendlení nastehujeme celý pásek dokola od zipu k lícu a po zastehování můžeme kontrolně zapnout zip, aby jsme se podívali, že máme pásek na obou stranách stejně. Na fotce vám ukazujeme jak je kontrola před našitím důležitá, jelikož je vidět, že každá strana je jiná a vychází rozdíl. Musíme tedy srovnat. Po našití vytáhneme stehovku a otočíme pásek nahoru do pasu a šití vyžehlíme.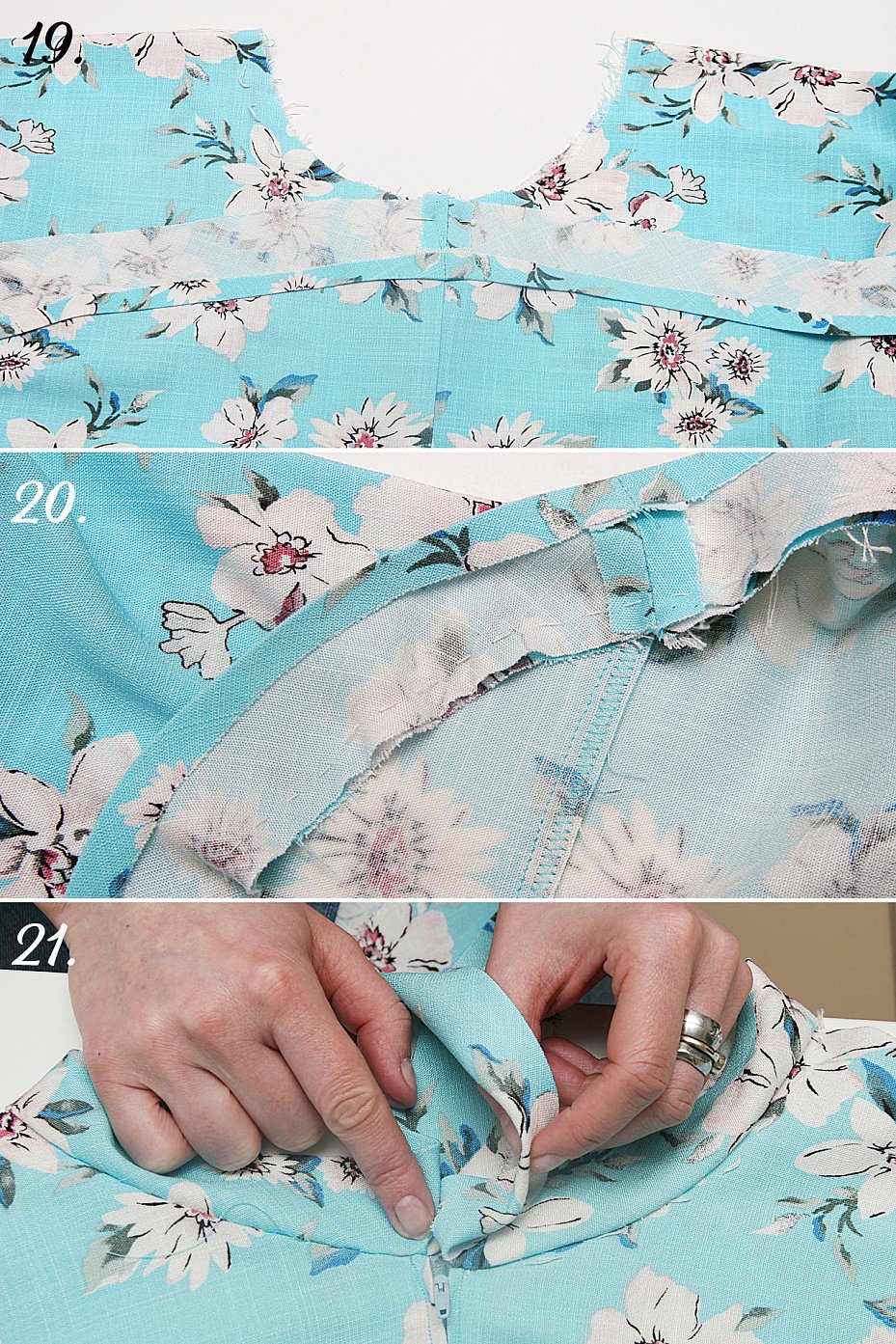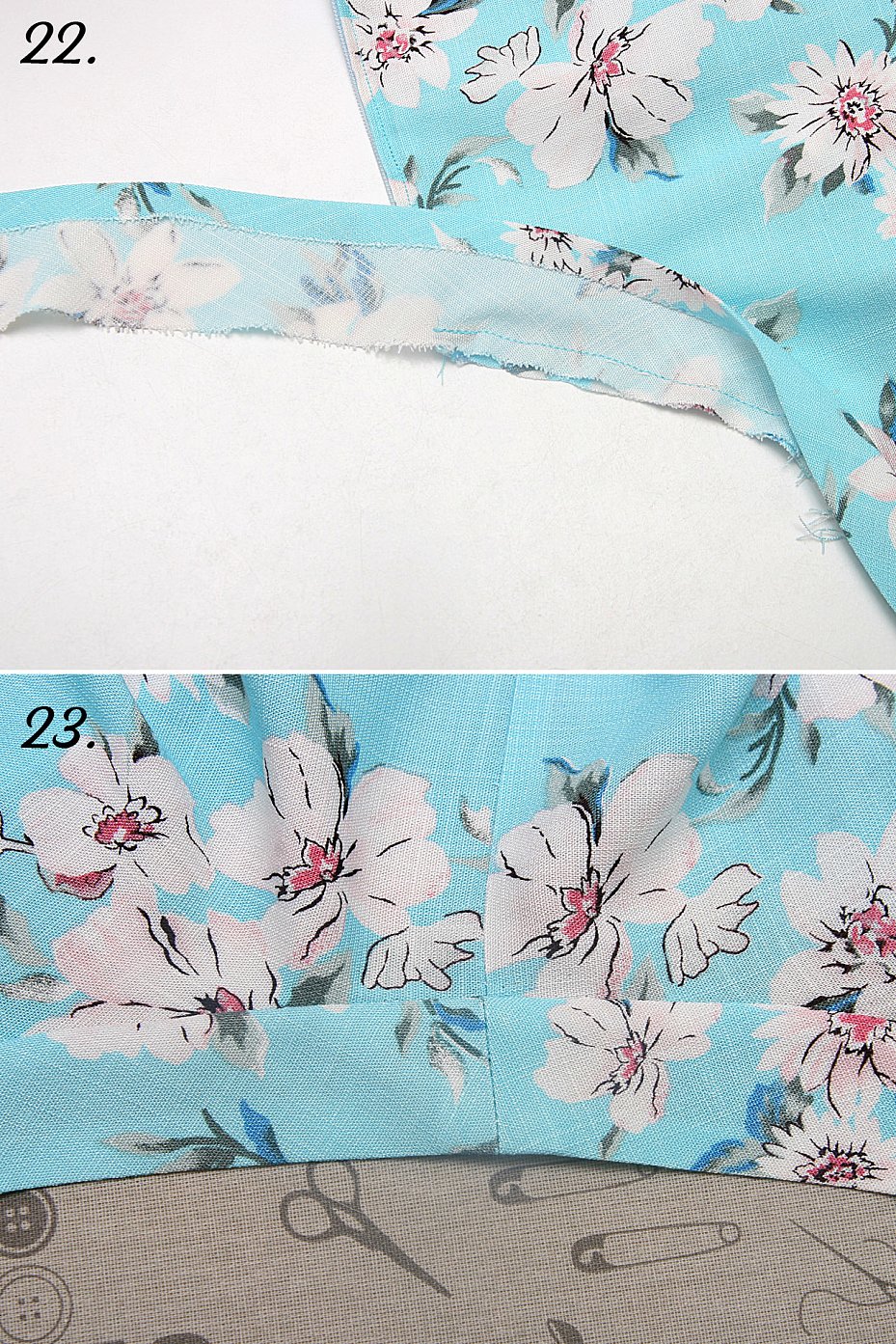 8) Zažehlíme i druhý okraj pásku. Před otočením a složením do rubu, uděláme v kulatém pasu pár nástřihů do švové záložky a obtočíme pásek do rubu. Zašpendlíme a zastehujeme tak, aby zažehlený okraj přesahoval o 1 -2 mm původního šití.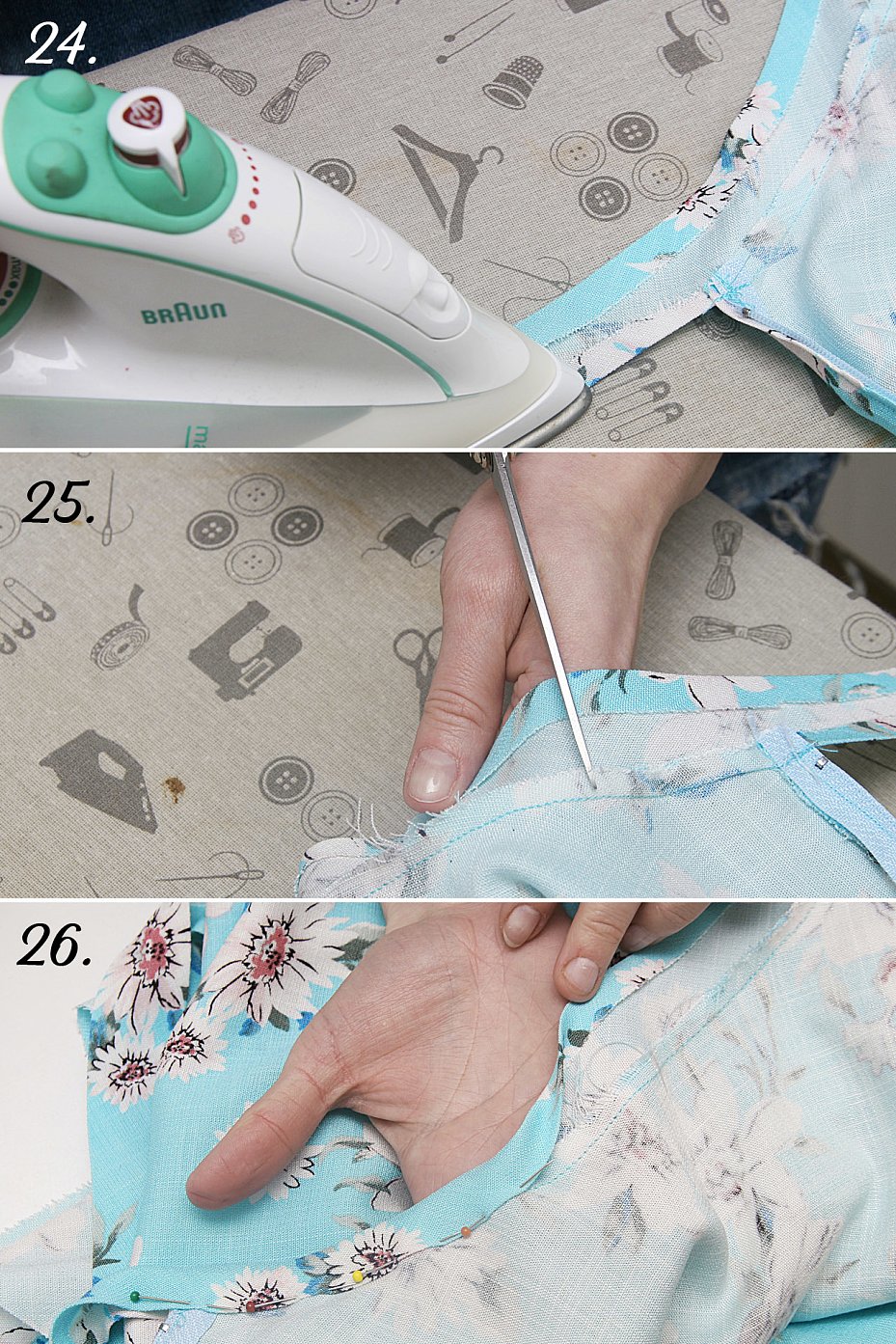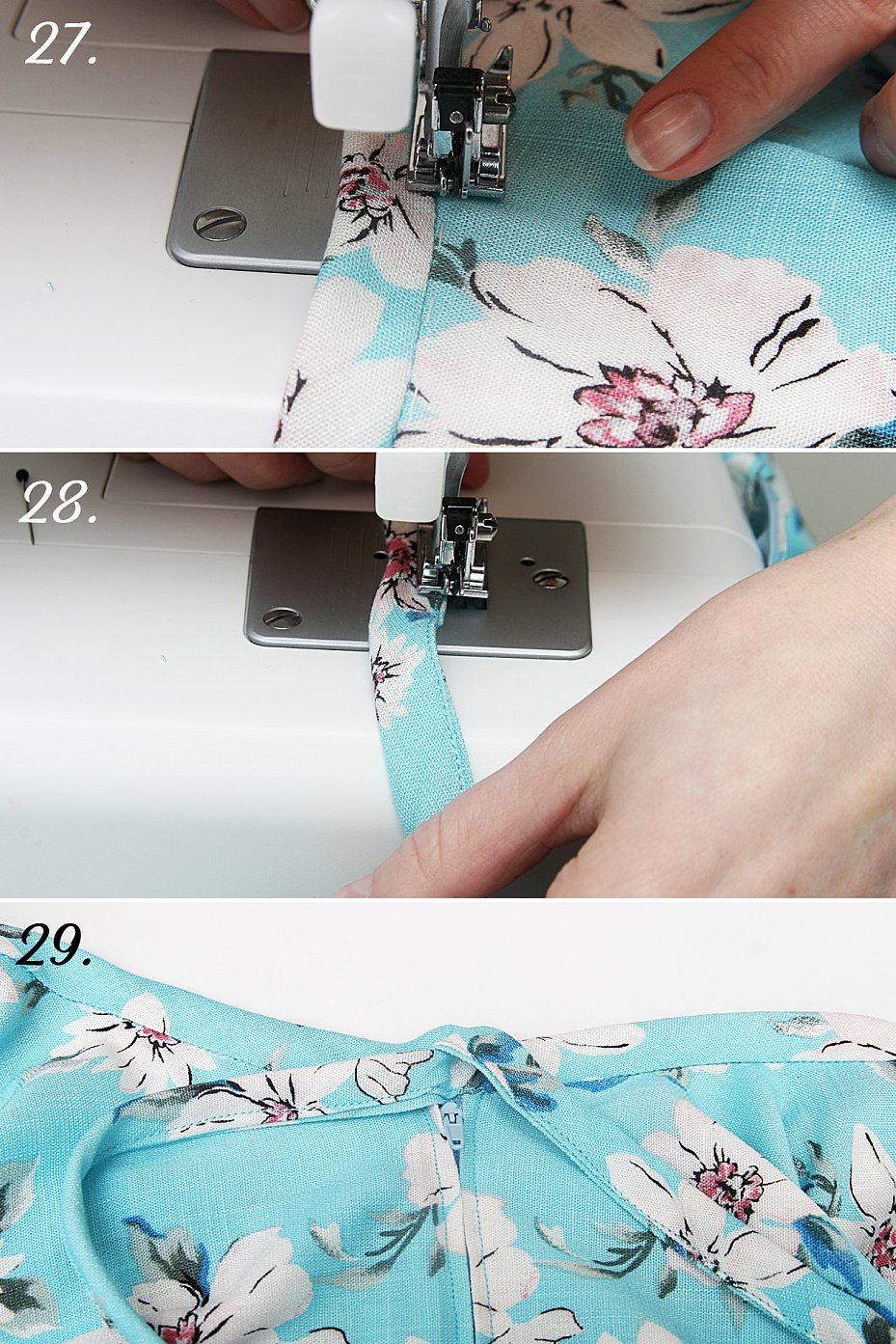 Pečlivě nastehujeme, aby se okraj nehnul. Prošíváme z lícové strany přesně v místě našití pásku - ve švu, aby šití bylo co nejméně vidět, a z rubu se zároveň přichytí zahnutý okraj pásku. Šijte pomalu a opatrně, abyste neuhnuli vedle. Vyzkoušíme, doměříme délku a 2x zahnutým obrubovacím švem začistíme dolní okraj sukně.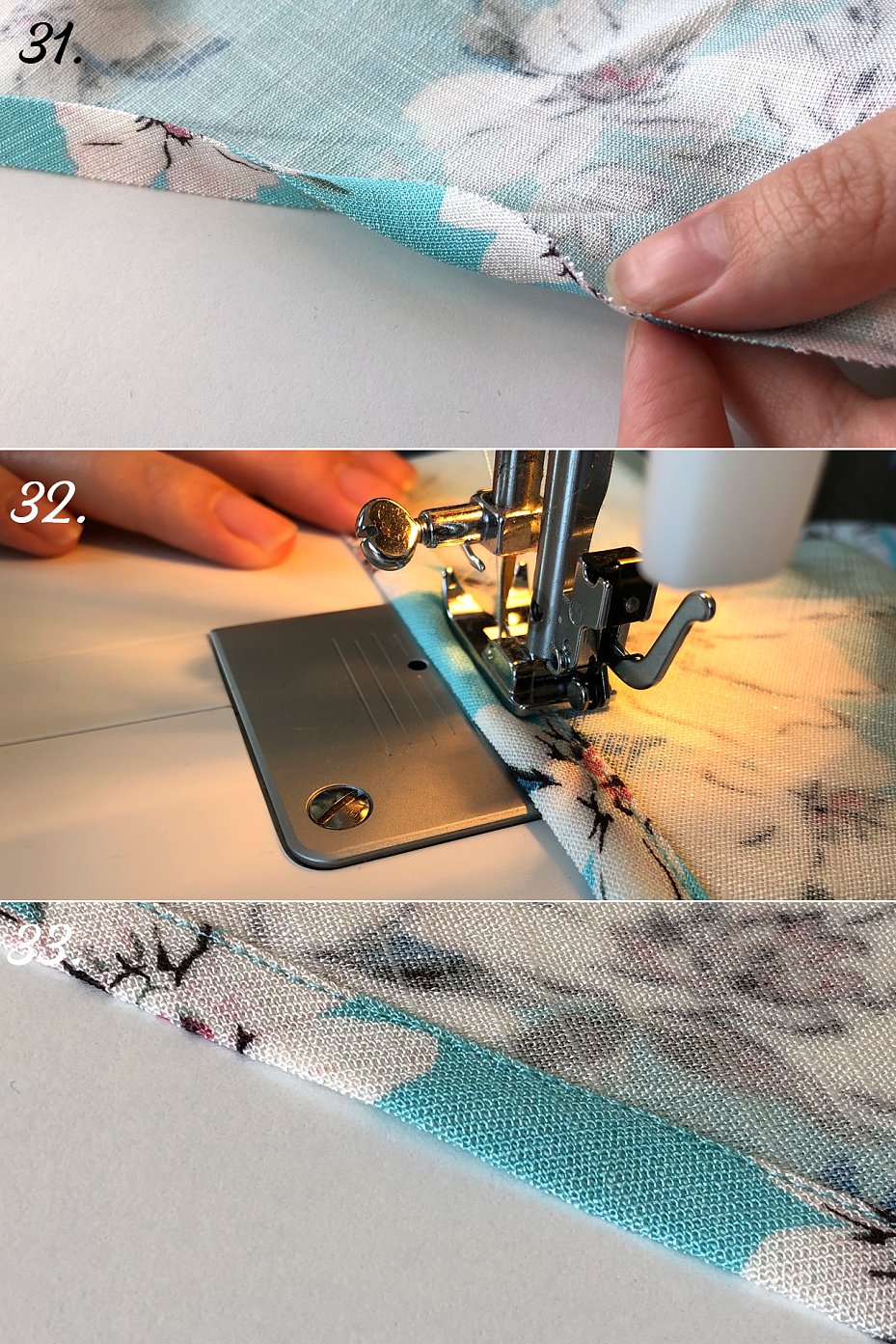 A kolová sukně je na světě!