Part 2. Pocket Handbook
Posted on
Another part is here! This time a little before it was planned, but it has a reason. In today's photo gallery we have prepared an advent calendar for you pockets.
Další díl je tady! Tentokrát o chvilku dřív, než bylo v plánu, ale má to svůj důvod.
V dnešním fotonávodu jsme si pro vás připravili adventní kalendář v podobě
kapsáře. Protože advent už se blíží a je potřeba nějaký ten čas na výrobu
kalendáře, rozhodli jsme se, že vám ho ukáže s předstihem, abyste měli dostatek
času na jeho realizaci. Pusťme se do toho :)
Co budeme potřebovat? Na můj kapsář jsem použila bavlněná plátna, výztužnou
vložku ronofix, filc, nitě, jehlu, špendlíky, nůžky, páráček, metr.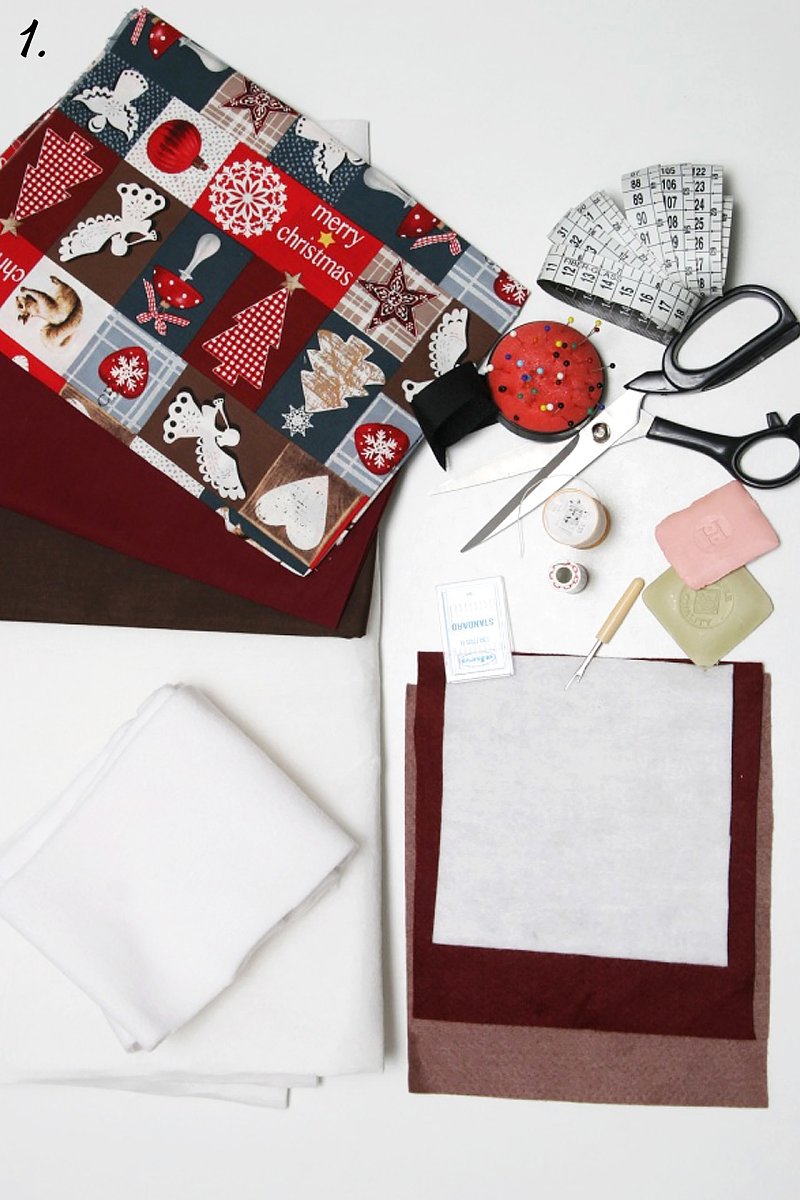 1. Jako první si rozmyslete, jak chcete, aby váš kapsář vypadal, jaký bude mít
tvar a předběžnou výšku a šířku. Poté nastříhejte různě velké kapsy.
Nezapomeňte, budeme jich potřebovat 24. Při stříhání myslete na to, že
každá kapsa potřebuje mít 1 cm švové záložky na stranách, které budeme
ke kapsáři přišívat. Dále 2 – 3 cm na průhmat kapsy – horní strana. U
malých kapsiček bude stačit 1 cm. Barevné rozložení, velikosti a tvary
kapes si udělejte podle vaší fantazie.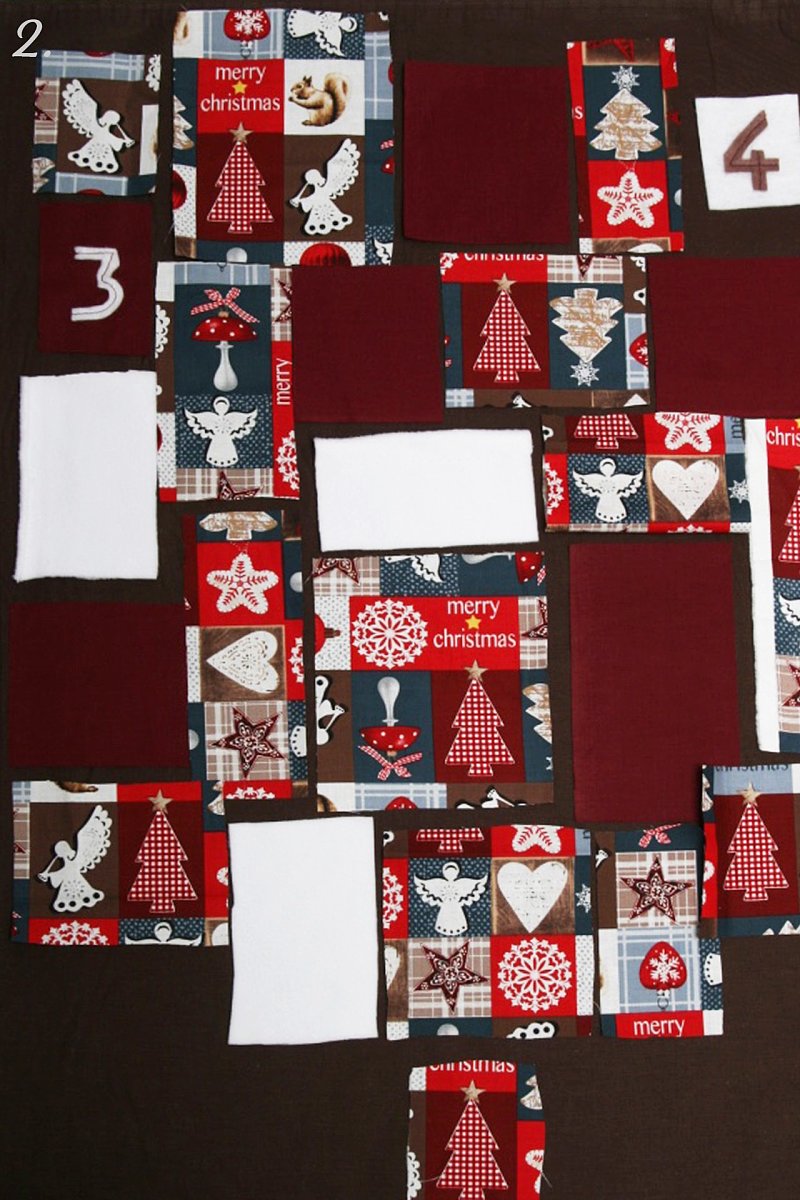 2. Vyžehlíme podkladový materiál a na jeho rub nažehlíme výztužnou
vložku.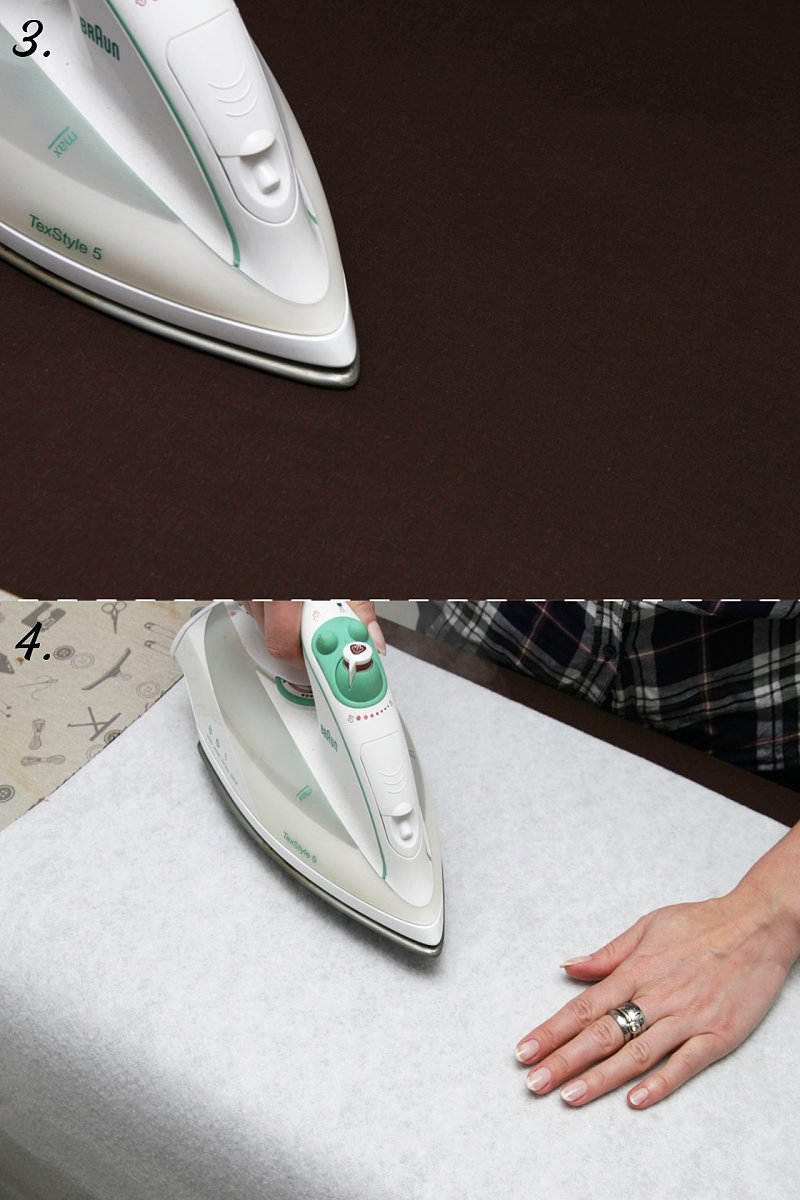 3. Následuje příprava kapes. Jako první si na kapsu přišijeme čísla, která si
předem vyrobíme. Můžete je vystřihnout z filcu, jako jsem to udělala já.
Dále můžete použít i zbytek výztužné vložky a čísla na kapsy nažehlit.
Můžete čísla také ručně vyšít. Fantazii se meze nekladou. Při jejich
umístění opět myslete na to, že se velikost kapsy zmenší o švové přídavky
a průhmat kapsy. Čísla můžete přišít na stroji, můžete použít různé druhy
stehů, které váš stroj obsahuje. Další způsob je šití ručně, při kterém si
procvičíte zadní spojovací steh z minulého návodu. Po našití čísel můžeme
začít s přípravou kapsy.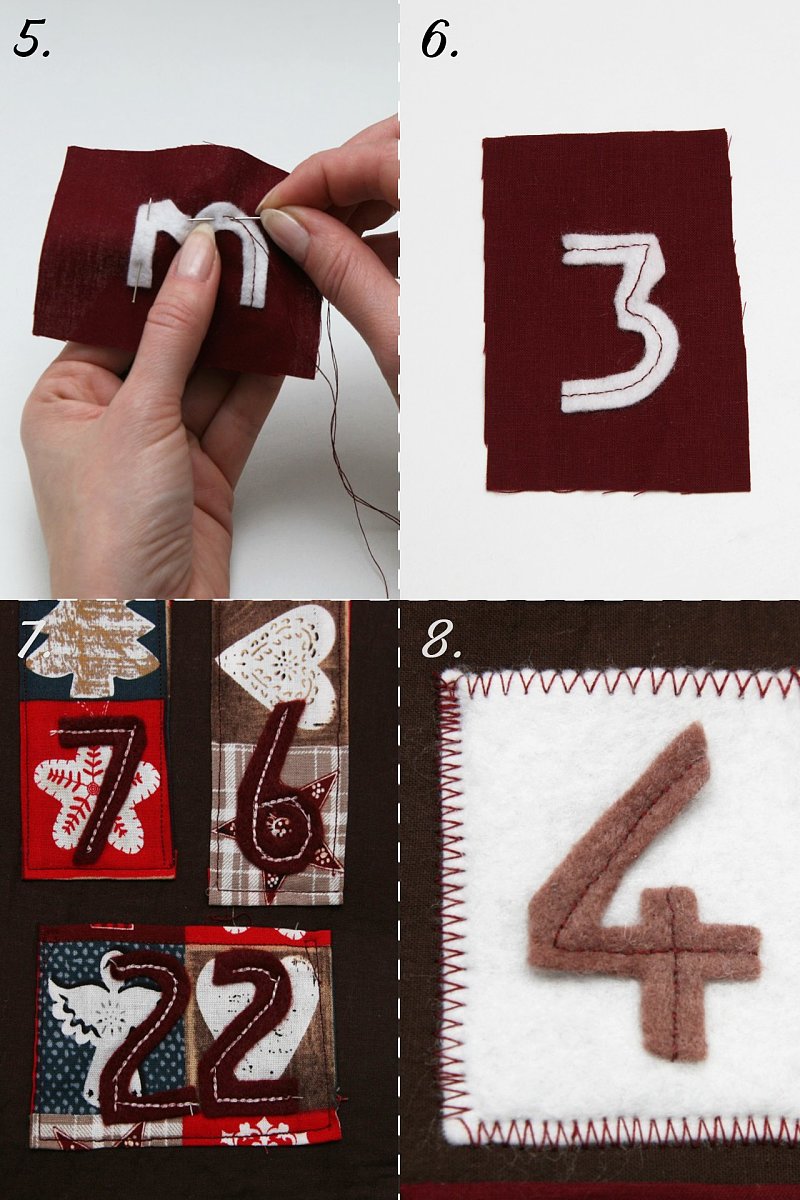 pozn. č. 5. šití zadním spojovacím stehem, č. 7. šití na stroji, č. 8. netřepivé materiály můžete vyztužit
ronofixem a přišít cikcak stehem.
4. Začneme s průhmatem kapsy. 1 cm švové záložky průhmatu zažehlíme do
rubu, který podlepíme výztužnou vložkou. Poté podehneme do rubu 1-3
cm podlepeného průhmatu a zažehlíme. Takto připravený okraj
prošijeme za 1 mm na stroji. Můžeme si pro jistotu zašpendlit či
prostehovat okraj. Boční a spodní okraje začistíme cikcak stehem na
stroji. Plátno se hodně třepí, proto je důležité ho začistit, aby nám nikde
nevylézaly roztřepené nitě, které se během práce s materiálem uvolňují.
Takto připravíme všechny kapsy, abychom je mohli vzít a poskládat je na
kapsář. Já jsem si během šití nejprve kapsy pouze naskládala bez této
přípravy a pak jsem měla problém s jejich průběžným zmenšováním a
vytvářela se mi příliš velká místa mezi nimi. Příště už budu chytřejší a
udělám to tak, jak vám píšu. :)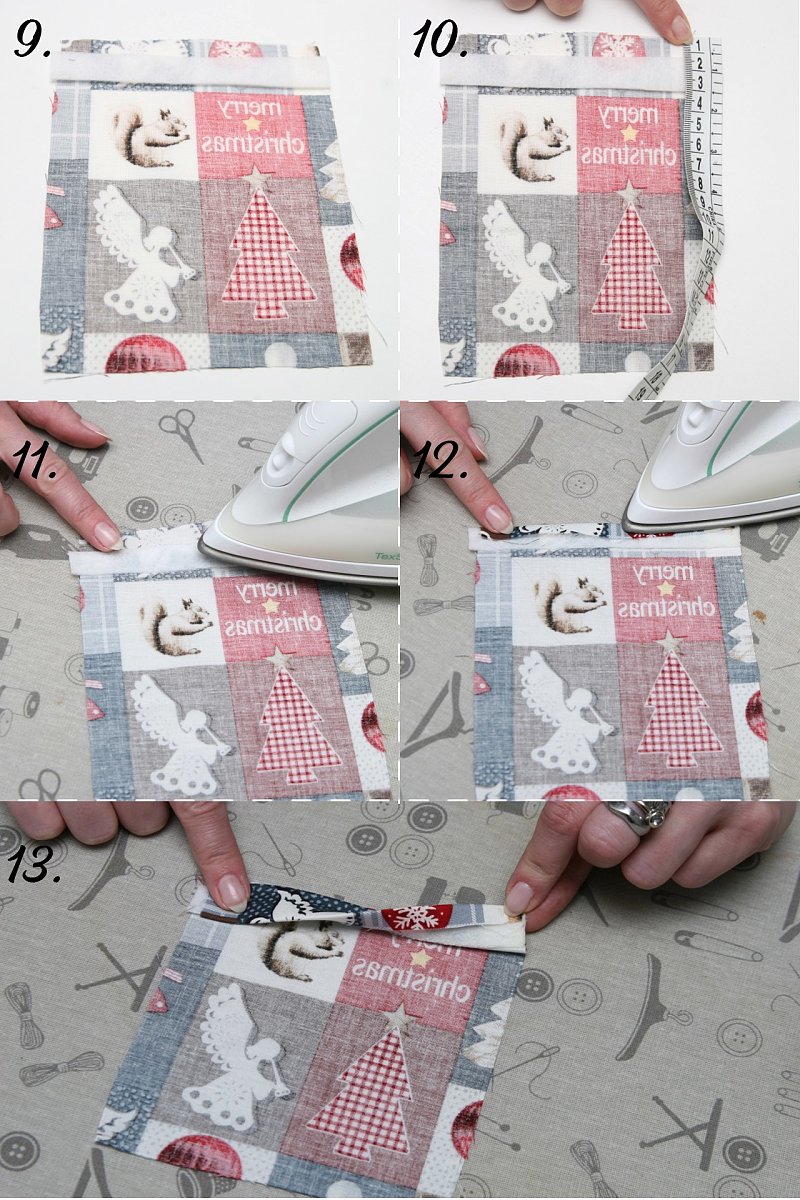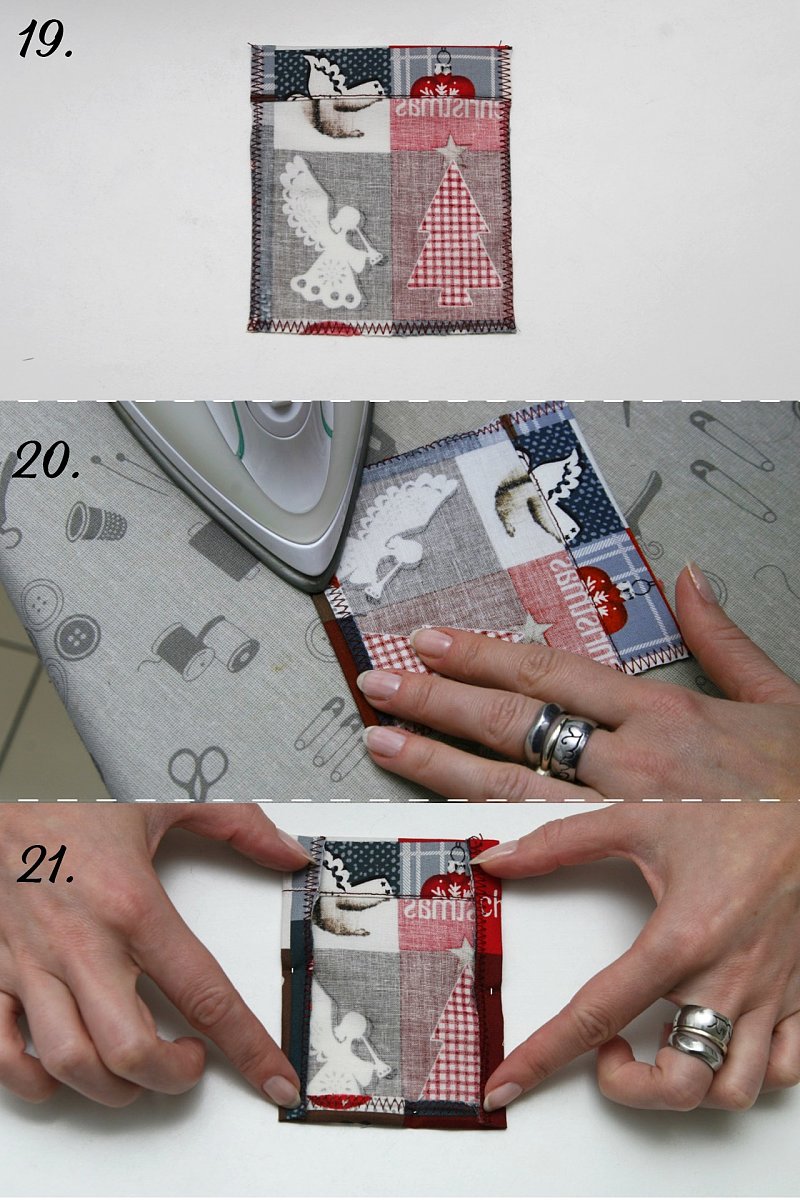 5. Po uspořádání kapes na kapsář můžeme přistoupit k samotnému přišití
kapes na spodní materiál kapsáře. Kapsu si můžete před šitím
přistehovat. Pro šití kapes se na průhmatu kapsy dělá malý klínek, který
chrání kapsu před vytržením ze spodního materiálu. Kapsa je v tomto
místě nejvíce namáhána. Klínek se šije směrem od prošití průhmatu kapsy
k okraji kapsy, zde se šití otočí, ušijí se 3 stehy směrem k boku a znovu se
šití na jehle otočí a dále se pokračuje po obvodu celé kapsy. Po jejím ušití
vytáhneme stehovací nit a kapsa je hotová.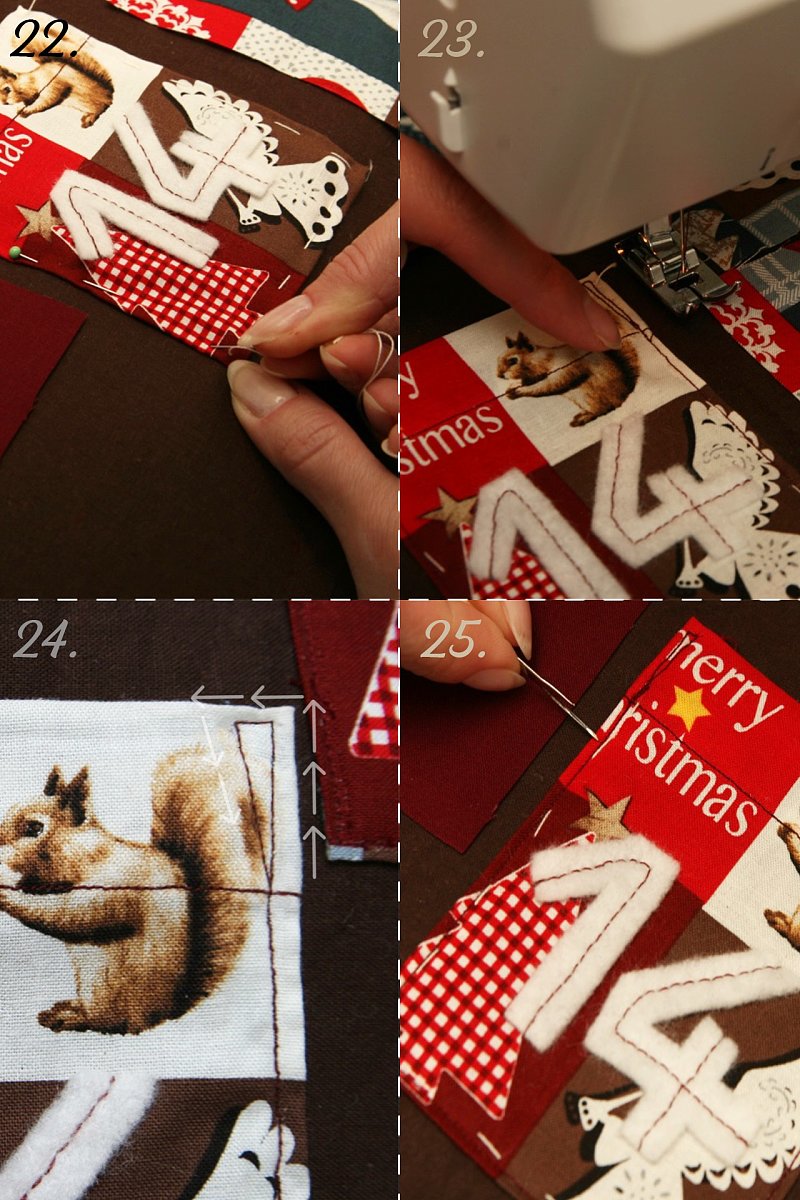 6. Až našijeme všechny kapsičky, začistíme si okraje kapsáře. Složíme
kapsář lícem na líc, což znamená obrázky dovnitř. Poté okraje
prošpendlíme, nastehujeme a prošijeme. V dolní části okraje si necháme
15 cm mezeru, kterou nakonec otočíme kapsář do lícu. Při špendlení si
můžeme pomáhat metrem či pravítkem pro přesnější linie.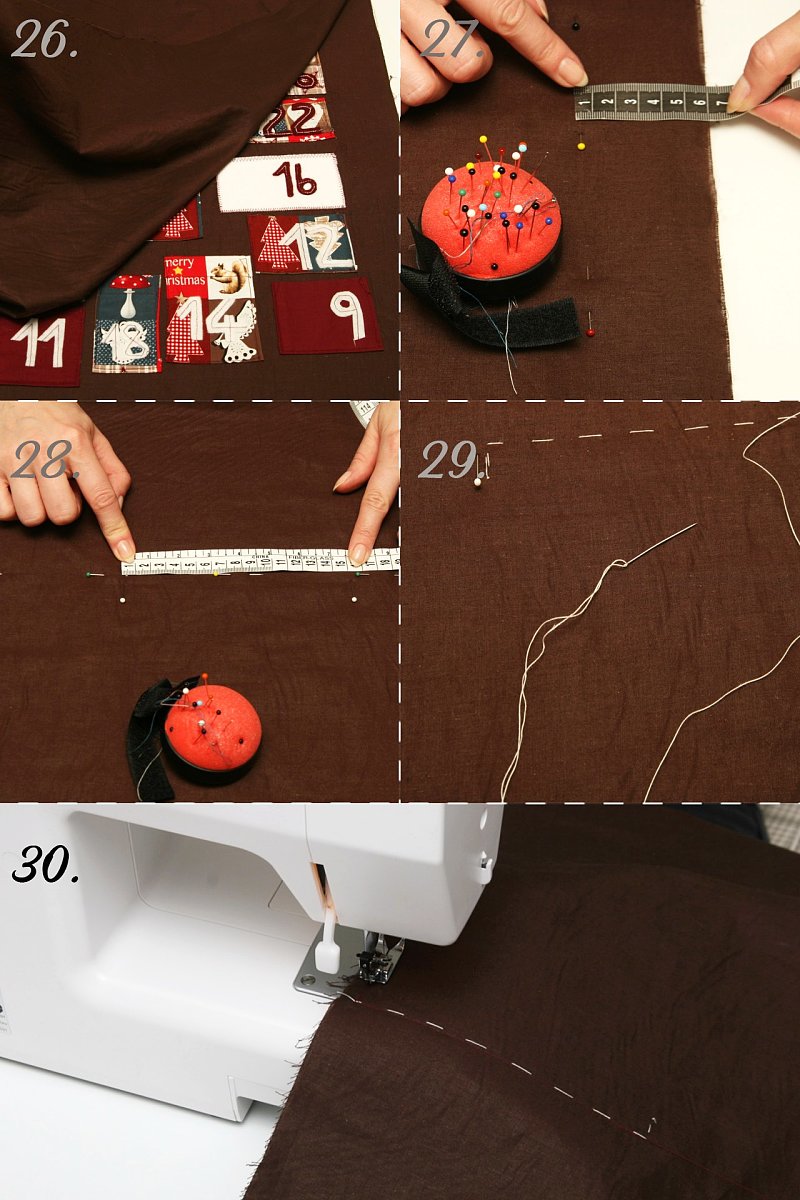 7. Po prošití na stroji zastřihneme švové záložky na 1 cm a sestříhneme rohy
kolmo.
8. Kapsář protáhneme nesešitým otvorem do lícu. Srovnejte švové záložky
uvnitř kapsáře, rohy vytlačte prstem, ať mají pěkný tvar, může použít i
nůžky, ale pozor, ať si materiál neponičíte. Urovnáme nedošitý otvor po
protažení, prošpendlíme a teď máme dvě možnosti, buď můžete otvor
sešít na stroji, ale zde bude šití vidět, nebo můžete vzít do ruky jehlu a nit
a otvor zašít ručně skrytým stehem. Ten se šije tak, že steh vedete tam,
kde se látky stýkají. Nejdřív do jedné a pak do druhé látky. Přesný návod
naleznete na konci.
9. Poutko si každý může vyrobit jaké budete chtít. Já jsem ze zbytků
materiálu nastříhala stejně dlouhé proužky, které jsem zapletla jako
copánek. Ten jsem přišila na horní okraj kapsáře. Příště bych ale volila
dvě menší poutka, která bych umístila do rohů kapsáře, protože po
naplnění se pod tíhou dárečků v kapsách rohy ohnuly.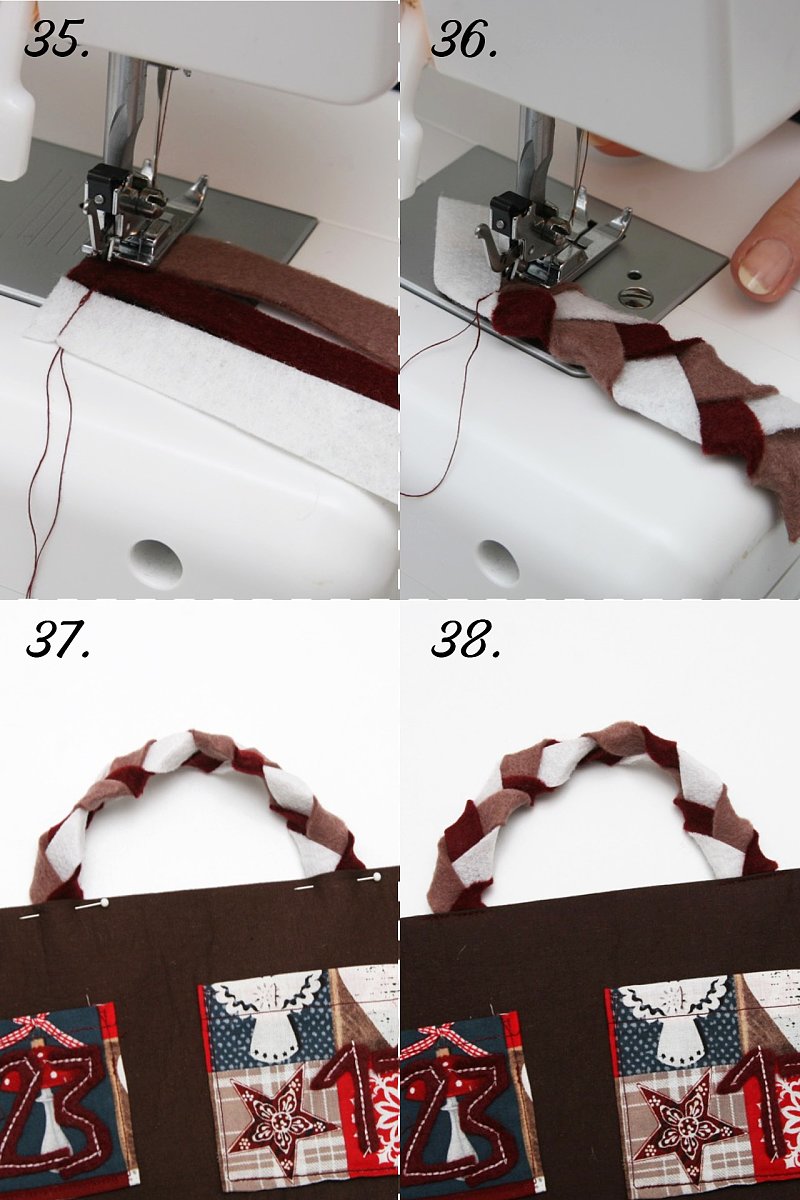 10. Závěrečné zdobení. Tato část už je jen a jen na vás. Můžete dozdobit
zbytky materiálu, ze kterého můžete vystřihnout tematické obrázky,
vločky, mašličky, prostě cokoliv co vás napadne.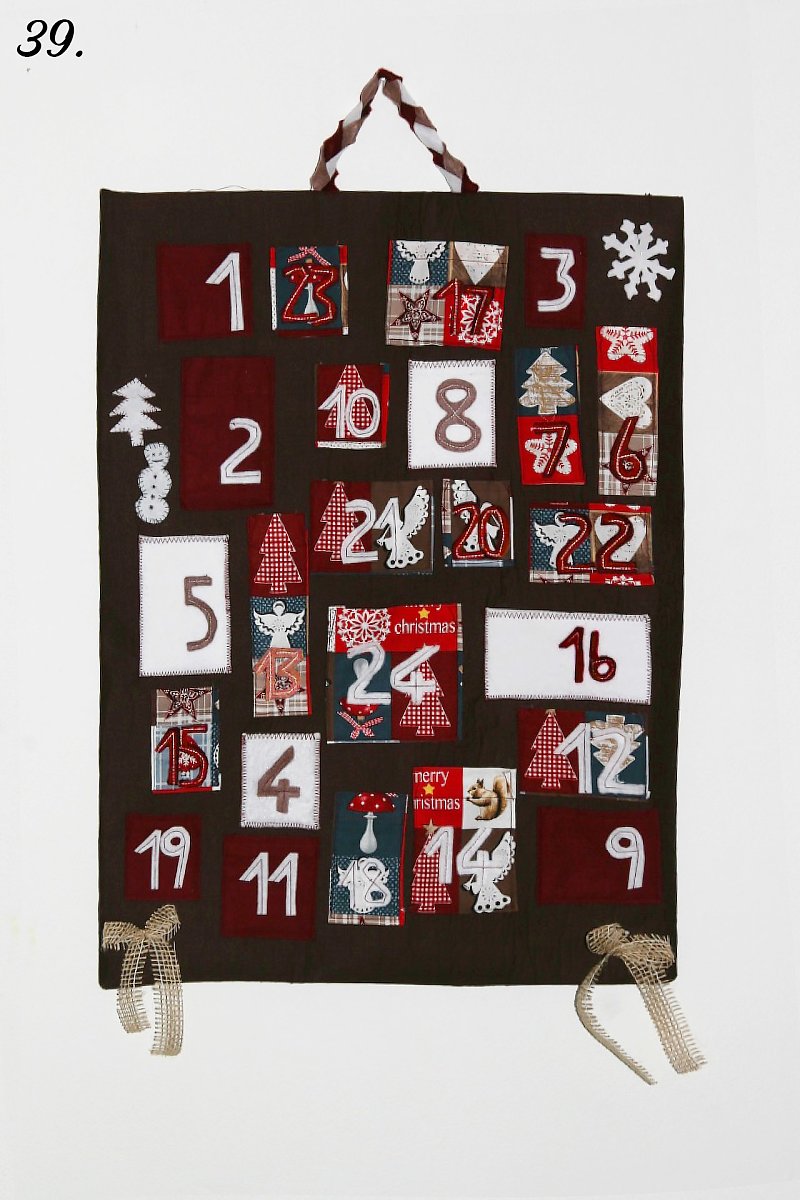 Tak a máme hotovo!
Protože jste si psaly o doplnění skrytého stehu, který vám chyběl v minulém
návodu, rozhodla jsem se ho přidat, abyste měli vše kompletní.
Skrytý steh
Používá se při šití z líce, kdy nechceme, aby byl steh vidět. Například u dětských
hraček, polštářků nebo u podšívek tašek, tedy tam, kde obracíme látku z rubu do
lícu a potřebujeme otvor zašít.
Nejprve skryjeme uzlík uvnitř výrobku, jehlu vedeme z rubu do lícu. Poté šijeme
tak, že jehlou propichujeme látku na hřbetu ohybu látky, tam kde se látky spolu
dotýkají. Po zašití otvoru uděláme uzlík a jehlu protáhneme dovnitř výrobku
kousek dál od konce. Zatáhneme ji a ustříhneme, tím zůstane krásně skryta
uvnitř a nebude nikde trčet.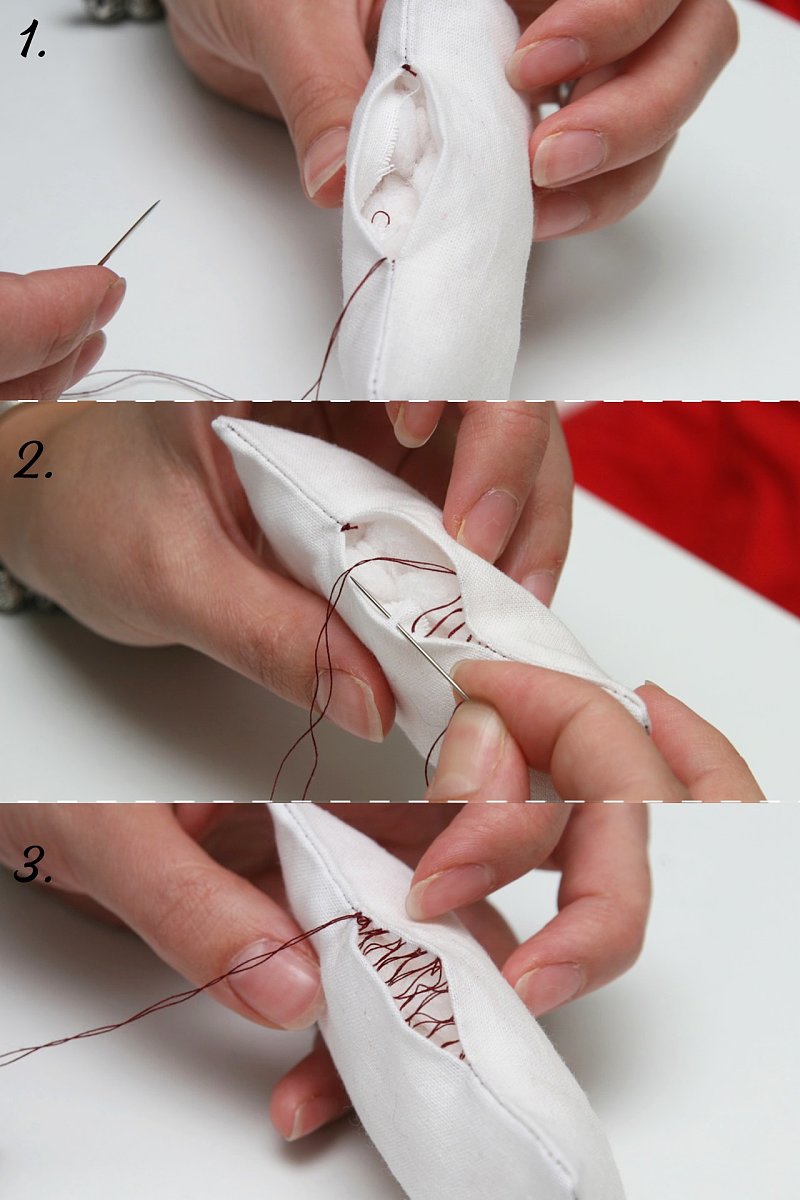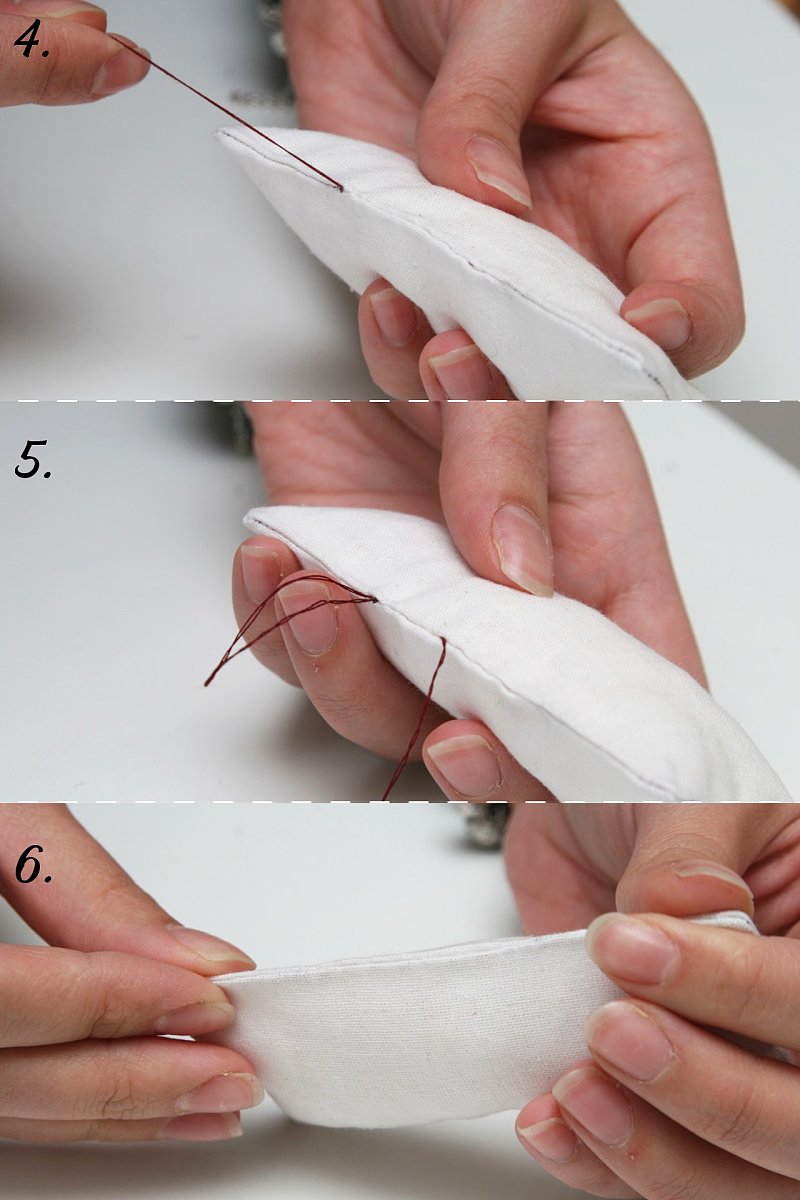 Doufám, že se vám váš adventní kalendář povedl a máte z něj takovou radost,
jako mám já. A vlastně, možná ani tak nezáleží na nás, jako na našich dětech,
které budou s každým přibývajícím dnem netrpělivě čekat, co najdou v další
kapsičce.
Budu ráda, když se mi s vašimi výtvory pochlubíte. V příštím díle si zútulníme
naše domovy. Těším se na příště!