Jarní věnec snadno a rychle
Posted by KK on
TVOŘENÍ S DĚTMI Velikonoce se blíží, pojďme s dětmi přichystat jarní věnec třeba na dveře. A když už budeme tvořit, udělejte pár menších také do dětského pokoje :-) a věřte, že to šikovné děti zvládnou i sami :-)
Návod na výrobu věncového korpusu je univerzální, stejně tak ho můžete použít pro výrobu adventního věnce, vánoční dekorace, nebo také věnečků jako dekorace třeba na svatební stůl. Fantazii se meze nekladou a protože náklady na výrobu jsou minimální, můžete mít každý měsíc jiný :-)
Připravte si:
- jakoukoli kartonovou krabici
- dvě pokličky nebo dva talíře různých průměrů
- staré noviny, letáky, časopis - řezák (odlamovací nůž) a podložka na řezání
- papírovou malířskou lepicí pásku (lze nahradit i běžnou průhlednou lepicí páskou)
- 0,3 m bavlněné látky šíře 110cm, nebo 0,2m bavlněné látky šíře 140cm v barvě, kterou preferujeme. Náš tip: pokud budeme věnec hodně zdobit, vybereme si raději jednobarevnou látku, nebo s decentním vzorem. Pokud budeme dekorovat jen mírně, vybereme si klidně látku s výrazným a barevným vzorem. Použít můžeme také zbytky různých látek, úplet, stuhu atd.
Jdeme na to :-)
1) Na podložku na řezání (dobře poslouží třeba i kuchyňský vál, nebo jakákoli deska u které nevadí že se poškrábe) si položíme karton z krabice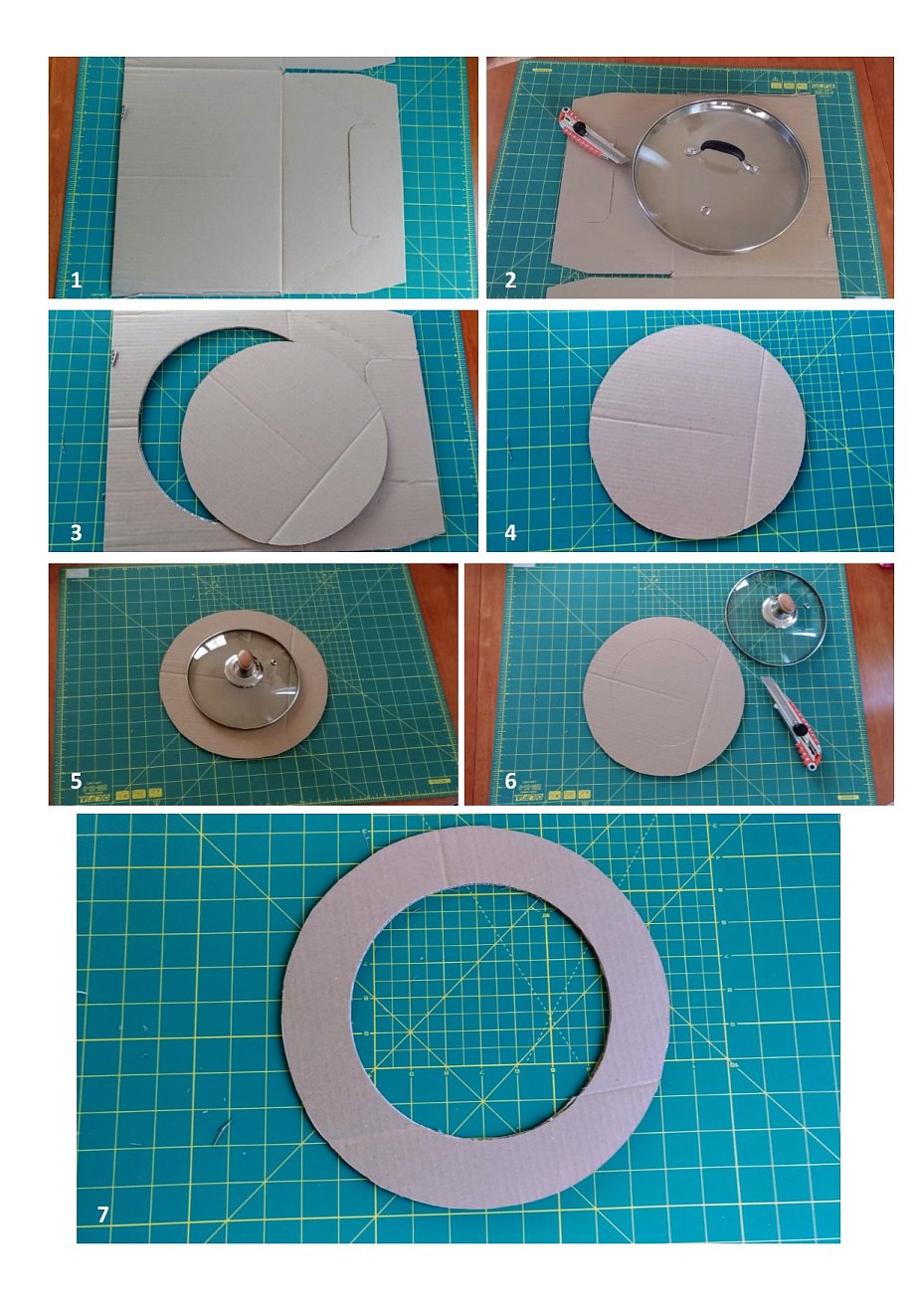 2) - 4) Na karton položíme pokličku (talíř) s větším průměrem a řezákem opatrně ořízneme. Máme vnější okraj korpusu
5) - 7) doprostřed vyříznutého kruhu položíme pokličku (talíř) s menším průměrem a opět řezákem opatrně ořízneme. Máme základ.
Náš tip - pokud budou základní kruh připravovat děti, musí pracovat pod vaším dohledem a nebo si kruhy jen obkreslíme a vystřihneme nůžkami. Nebojte, nemusí to být zcela dokonalé, na výsledném kruhu se to ztratí :-)
8) nyní přijdou na řadu noviny, letáky, časopisy - prostě potištěný papír. Lehce ho zmačkáme (podle obrázku) a přiložíme z jedné strany kruhu z kartonu a zároveň i z druhé strany a lehce obtočíme papírovou lepicí páskou. Tímto způsobem postupujeme kolem dokola viz fotonávod. Pokud na konci zjistíte, že máte někde méně papíru a povrch je "propadlý", přilepte další :-). Pokud budete mít někde naopak navíc, trochu víc ho zmáčkněte :-). Zkuste to, je to opravdu velmi, velmi snadné a ideální pro šikovné dětské prstíky :-)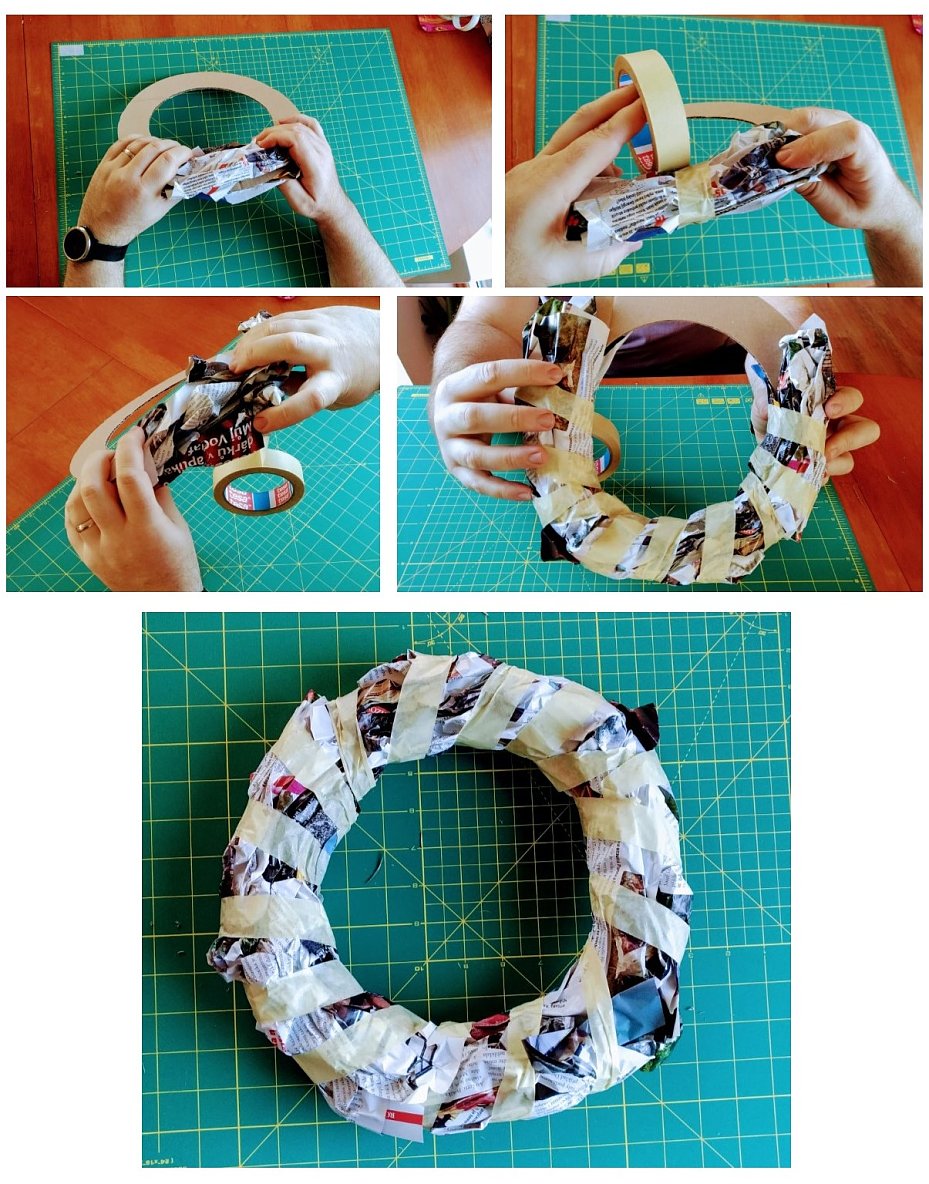 9) A nyní stačí papírový korpus omotat jakoukoli látkou, která se vám bude líbit. My jsme použili bavlnu USA nařezanou na 5 cm pruhy. Ale využít můžete také úplet, nebo cokoli jiného budete mít doma. Hodí se i širší stuha. Pro zjednodušení si začátek přichytíme buď dvěma špendlíky, nebo tavnou pistolí. Omotáváme kolem dokola, konec a začátek navazujících pruhů se vždy překrývají. Konec opět přilepíme tavnou pistolí, nebo přišpendlíme špendlíky.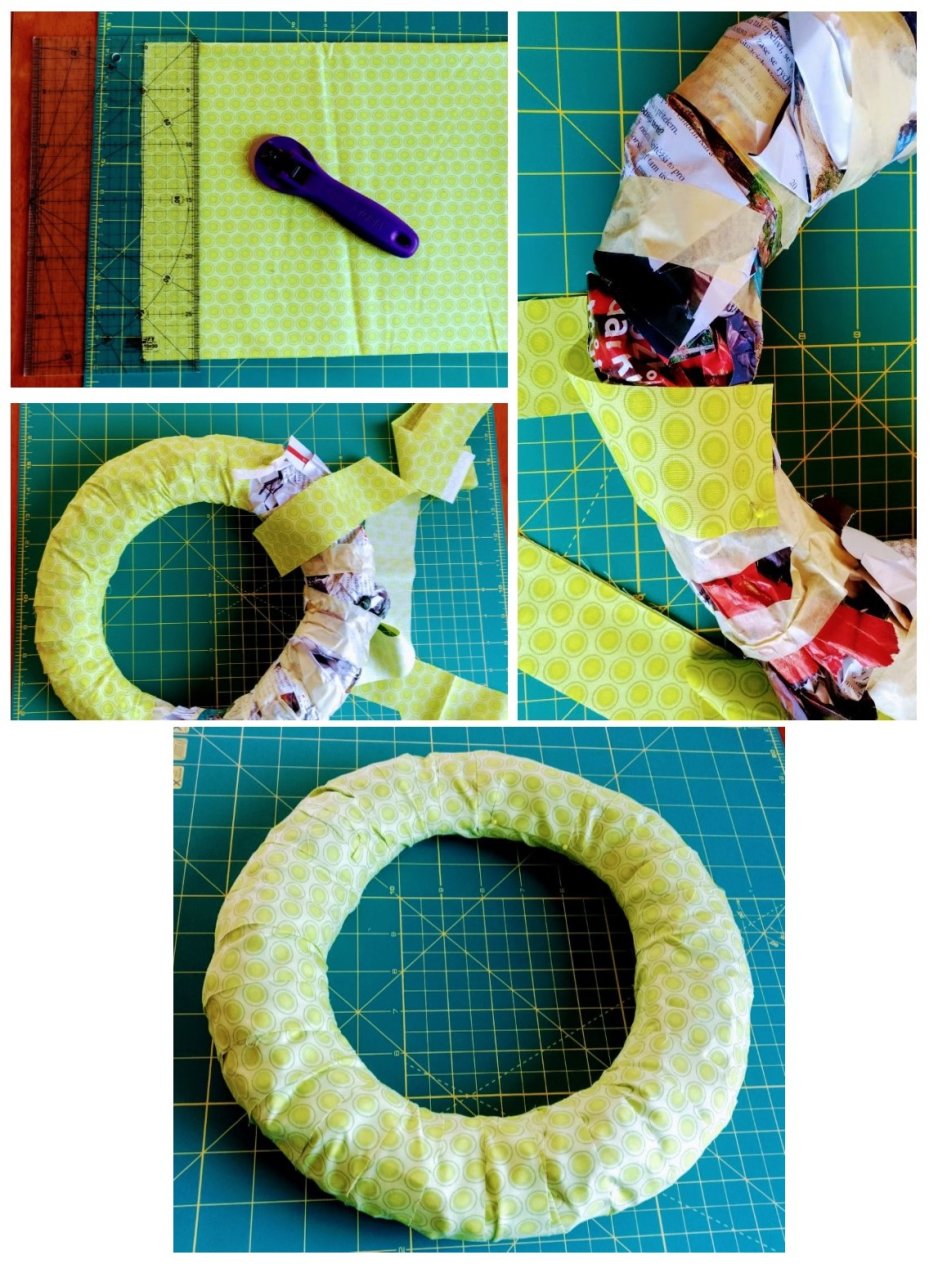 Nyní stačí věnec ozdobit dle vlastní představy. Využít můžete třeba kytičky, motýlky nebo jiné tvary připravené podle našeho návodu, umělé květiny, nebo třeba jen vystříhané z papíru. Fantazii se skutečně meze nekladou :-) ...