Přivolejte si jaro
Posted by KK on
TVOŘENÍ S DĚTMI - ZVLÁDNOU I TY NEJMENŠÍ Přičarujte si během chvilky jaro, vyzdobte si kuchyň nebo dětský pokoj, připravte drobnou radost pro kamarádky, nebo třeba babičku.
Další z nápadů na tvoření s dětmi, tentokrát bez šití :-)
Připravte si:
- vykrajovátka na cukroví libovolných tvarů, nebo z papíru vystřižené šablonky
- zbytky bavlněných látek které spolu budou ladit (náš tip: pokud doma nemáte zbytky látek, stačí vám jeden Látkový mix kde jsou látky již sladěny a vybírat můžete z mnoha kolekcí, včetně dětských
- ronofix s lepidlem na jedné straně (na spoustu drobných tvarů stačí jen 0,2m)
- knoflíčky, korálky a pod.
- kolíčky a špejle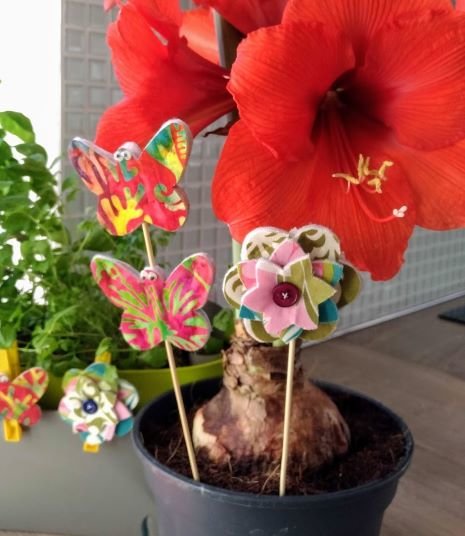 Jdeme na to:
1) Kousky bavlněných látek, které jsme si vybrali, nažehlíme na ronofix. Položte si ronofix vrstvou s kapičkami lepidla nahoru, na ní položte rubovou stranu látek, dejte jednu vedle druhé bez mezer (aby vám lepidlo neulpělo na žehličce) a na žehlicí stupeň "bavlna" několikrát přežehlete aby se lepidlo rozehřálo a přilnulo k látkám. Látky na ronofixu se nebudou třepit a budou silnější a pevnější !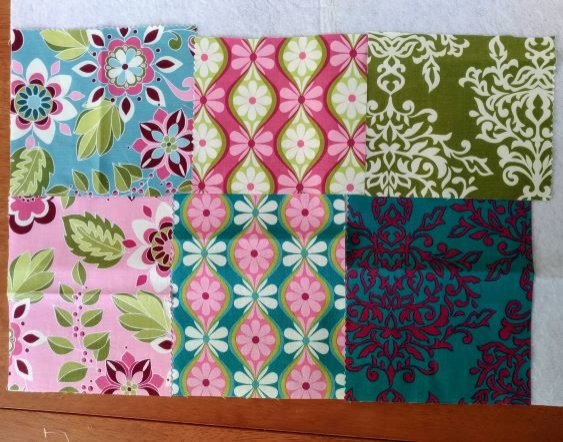 2) Rozstříhejte si zpevněné látky na jednotlivé kousky ať se vám s nimi lépe pracuje a můžete do tvoření zapojit více členů rodiny :-). Na spodní stranu - tedy tu kde je ronofix - si pak obkreslete tvary, které chcete. Pro kytičku jsme zvolili více velikostí kytičkových vykrajovátek:-)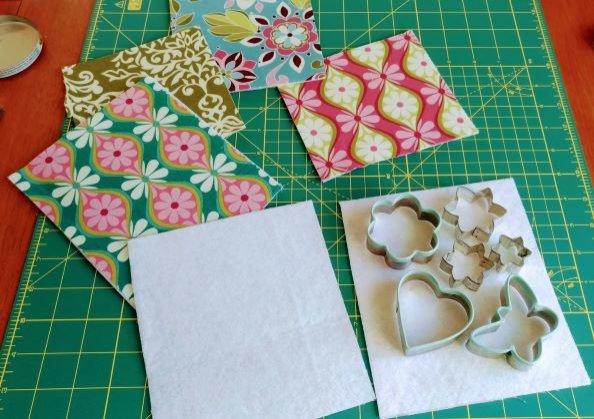 3) všechny tvary vystřihněte - děti to zvládnou skvěle sami :-)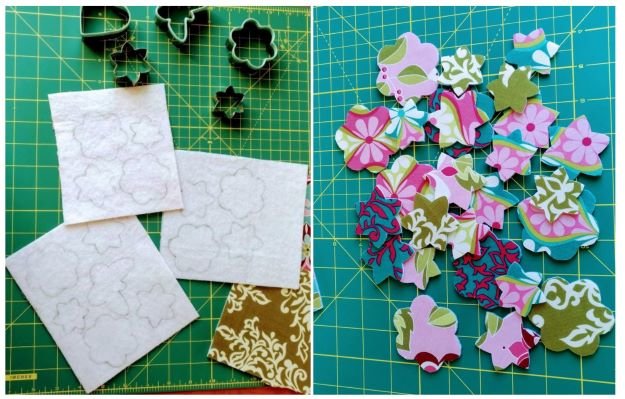 4) Kytička - poskládejte na sebe vždy 3 velikosti ideálně vždy od jiné barvy a vzoru, aby byl výsledný květ pestrý.

5) kytičky sešijeme k sobě tak, že prošijeme všechny vrstvy najednou zespoda, protáhneme dírkou v knoflíčku, druhou dírkou jehlu zase vpíchneme směrem dolů, propíchneme všechny vrstvy a na rubu pevně oba konce svážeme. Pokud má knoflíček 4 dírky jako ten náš, opakujeme ještě jednou dalšími dírkami. Tímto prošitím získá kytička stabilitu a plasticitu.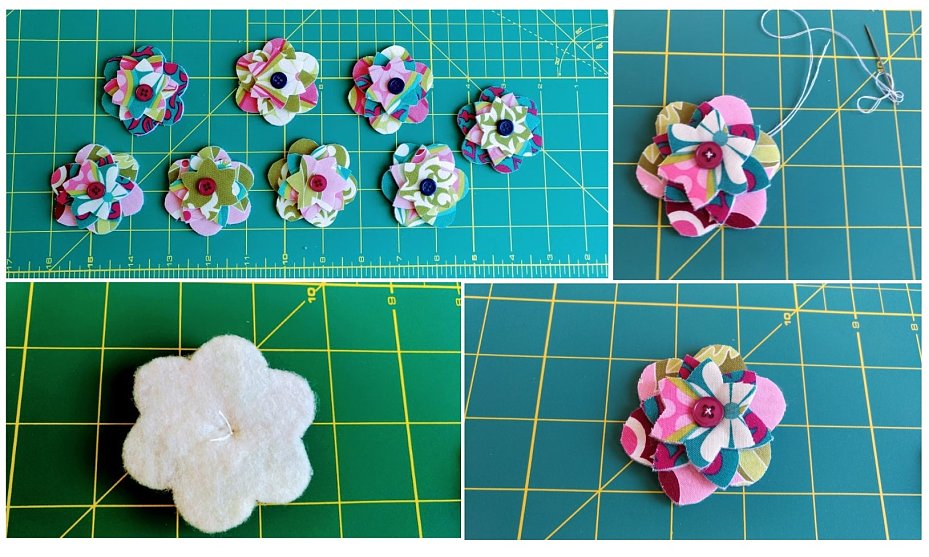 Hotové kytičky nebo další vystřižené tvary můžeme použít přilepit na špejli a zapíchnout do květináče, do bábovky :-), do stojánku s psacími potřebami nebo kamkoli jinam kde to chceme mít hezčí.
Jak správně nalepit na špejli:
budeme slepovat k sobě vždy dva tvary
na jednu rubovou stranu naneseme trochu lepidla na textil (pokud ho nemáme, zvládne to i lepidlo typu Herkules)
na středovou osu vložíme špejli
přiložíme druhou kytičku (rubem k sobě), přitlačíme a zajistíme textilními kolíčky (Náš tip: pokud je ještě doma nemáte, určitě si je pořiďte, použijete všude tam, kde nejsou vhodné špendlíky a skvěle se s nimi pracuje)

Další velice jednoduchou variantou je nalepit tvar na prádlový kolíček - pokud nemáte po ruce lepidlo, zvládne to i oboustranná lepicí páska :-) a je to jedna dvě :-)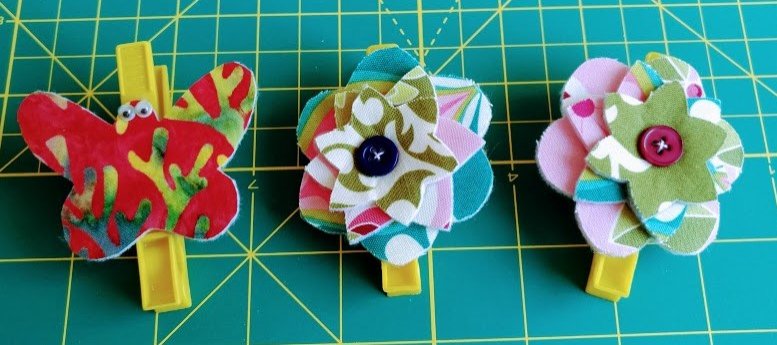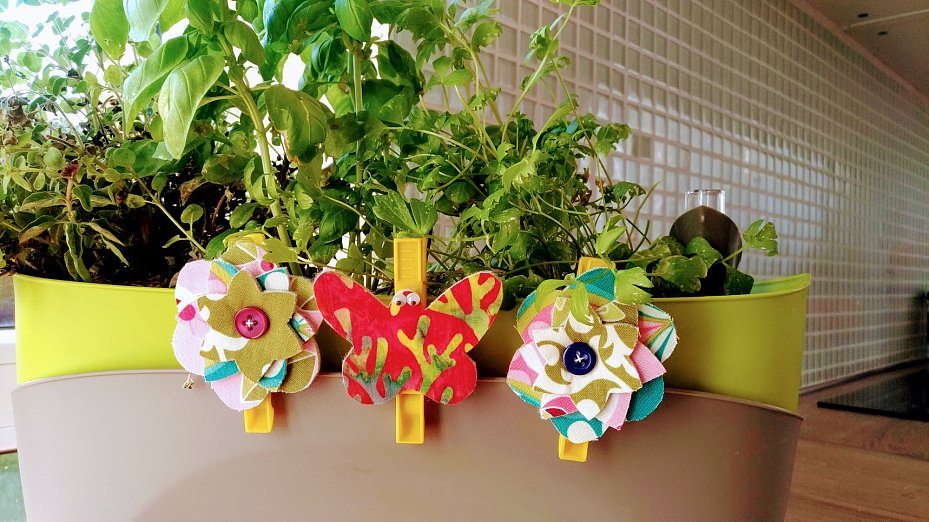 a malý tip na další návod - květiny využijeme pro výrobu rychlého a velice efektního jarního věnce