Patchworkové hrátky I.
Posted on
Naše patchworkové hrátky jsou určeny pro začátečnice a začátečníky, kterým patchwork učaroval, ale ještě nenašli odvahu ho vyzkoušet :-). S našimi názornými návody to bude hračka i pro vás.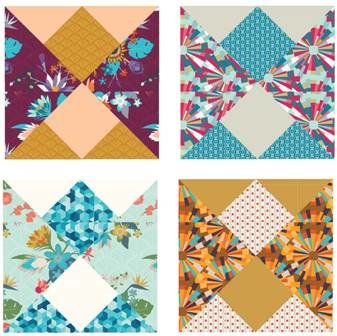 Dnes se naučíme sestavit velmi efektní a zároveň velice snadný vzor s Art Gallery Fabrics. Celý originální návod v anglickém jazyce si můžete zdarma stáhnout zde.
Prvním krokem je výběr materiálu a barev. Originální vzor je tvořen látkami kolekce AURA od Art Gallery Fabrics které na našem e-shopu naleznete zde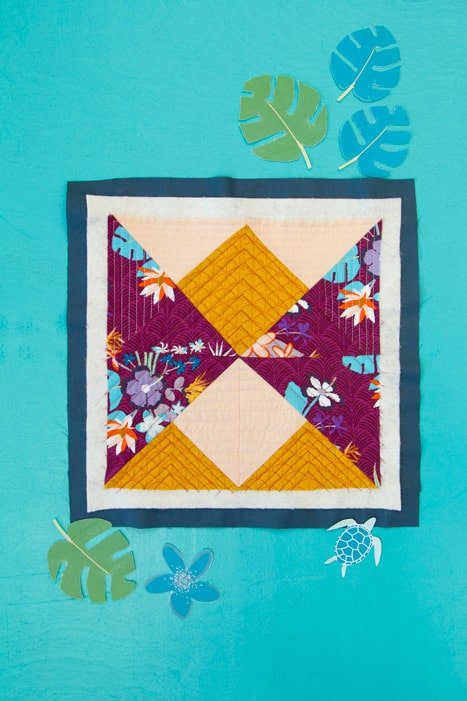 Jeden finální čtverec bude mít velikost 25cm x 25cm. Pokud budete chtít ze čtverců poskládat větší deku či přehoz, spočítejte si kolik čtverců budete potřebovat :-). Na tvorbu jednoho čtverce potřebujete 3 druhy látky. Z látky A a B nařežte (nastřihejte) dva čtverce 15,6 x 15,6cm, z látky C si připravte čtyři čtverce 15,6 x 15,6cm. A jdeme na to :-): Čtverec z látky A a B položte lícem na líc na sebe. Navrchu tedy je rubová strana. Nyní si podle pravítka nakreslete čáru z jednoho rohu do druhého (diagonálně). Máme? Pokud ano, sešijeme oba čtverce k sobě, tak jak na sobě leží a to tak, že je prošijeme ve stejné vzdálenosti od nakreslené čáry nalevo i napravo (držte se šíře šicí patky, je to pak jednoduché). Výsledkem tedy je, že jsou oba čtverce k sobě sešité lícem k líci dvěma švy. Nyní je rozstřihneme tak, že střiháme (řežeme) po nakreslené čáře. Když nyní každý z poloviny rozstřiženého čtverce rozložíme, máme čtverec sestavený ze dvou různých trojúhelníků.

Nyní si připravíme druhý typ čtverců. Čtverec látky C položíme lícem na líc na čtverec sešitý z látek A a B. A rubu vrchního čtverce si opět namalujeme čáru z rohu do rohu (diagonálně) ale pozor !!! musí být KOLMO na šev spojující látky A a B na spodním čtverci, jinak výsledný efekt nevznikne ! Máme? Nyní opět prošijeme z obou stran podél čáry, úplně stejně jako u prvního čtverce. Na čáře rozstřihneme (rozřízneme) a rozložíme. Pokud jsme sešili správně, bude výsledný tvar stejný, jako na obrázku:

Máme správně? Pokud ano, stejný postup zopakujeme ještě 3x, výsledkem budou 4 stejné sešívané čtverce.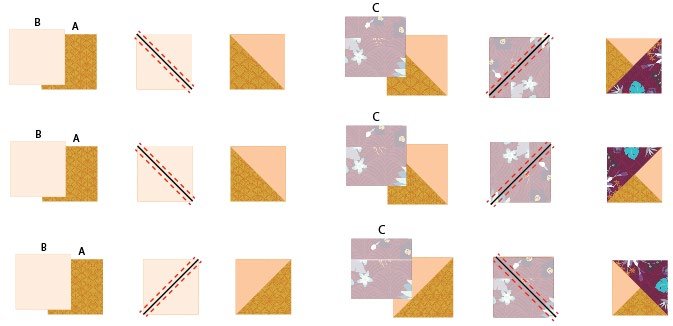 Nyní stačí položit čtverce vedle sebe tak, aby tvořily stejný tvar jako je náš. Pokud máme takto připravené :-) můžeme je k sobě sešít - dva čtverce položíme na sebe líc k líci, po rubové straně po správné straně sešijeme. Pak položíme na sebe lícem k líci dva vzniklé obdélníky (pozor, pořád dbáme na tom, aby nám seděl požadovaný vzor....) a sešijeme je po správné straně k sobě. Rozložíme - a kouzlo je hotovo :-)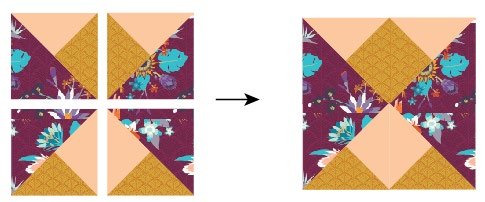 Barevných kombinací a variant je nespočet: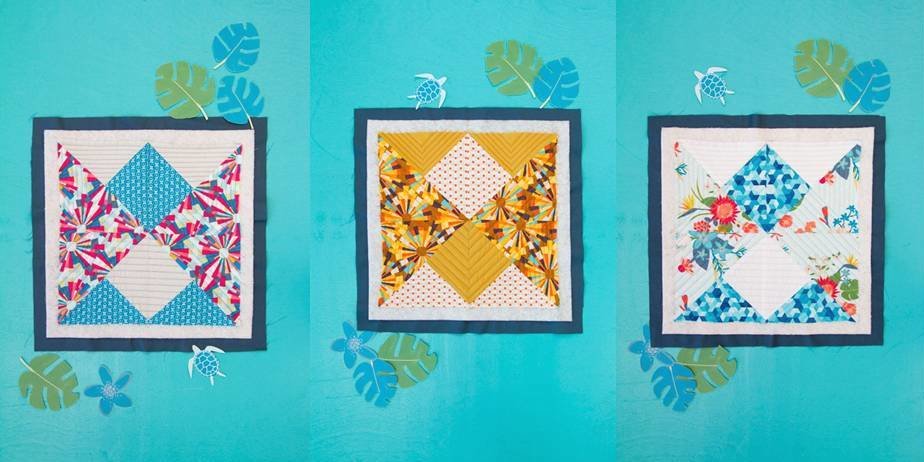 Krásné tvoření přejí LÁTKY MRÁZ a Art Gallery Fabrics :-)