Milujeme lemování!
Posted by KK on
Také se vám líbí lemovací (šikmé) proužky? Těch barev , vzorů a materiálů....ale pracovat s nimi, to je určitě složité.... Není :-) zkuste to s námi a zamilujete si lemování na první pokus :-)
Lemovací (šikmý) proužek slouží k začištění krajů látek. U více vrstev (například patchwork) zároveň zajistí stabilitu tvaru. Šikmý proužek si můžete vyrobit sami, ale jednodušší je použít šikmý proužek již připravený - složený a zažehlený. Šikmé proužky jsou bavlněné, úpletové, saténové, lněné, koženkové, matné i lesklé, metalické atd...výběr je skutečně velký.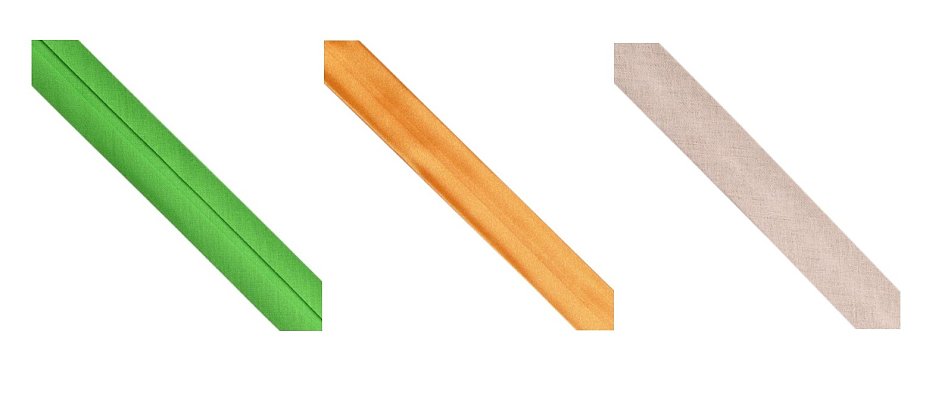 Způsobů, jak přišít šikmý proužek je více a každá "švadlenka" přísahá právě na ten svůj. Zkuste si s námi metodu, která zajistí dokonalý výsledek vaší práce :-)
Nejprve rozložíme jednu stranu zažehleného lemovacího proužku a začneme jej špendlit z rubové strany práce. Na začátku si necháme kousek volný a nepřišitý, k důvodu se vrátíme později. Pokud máte práci rohovou, tak jako my, našpendlíme jednu stranu a pak vypracujeme roh.

Roh založíme v úhlu 45°a každou ze stran našpendlíme jen k tomuto přehybu. Takto si jednoduše našpendlíme celý obvod lemované práce.

Oba konce šikmého proužku necháme volné, abychom vytvořili úhledný spoj volných konců. Nyní lemovací proužek přišijeme k práci velice těsně u linie sežehlení viz obrázek.

Rohy ušijeme vždy jen k přehybu v úhlu 45°. Pokud chcete mít jistotu, že roh "nepřejedete", můžete si v místě přehybu namalovat čáru.

Lemovací proužek přišijeme dokola až k nesešitým volným koncům. Nyní spojíme volné konce k sobě. Sešpendlíme je k sobě lícem k líci. Správný spoj je sešikmený, ale pro manipulaci je jednodušší sešití v pravém úhlu jako na obrázku. pro jednodušší sešití si naznačíme čáru švu. Prošijeme.


Nyní přišijeme i tuto poslední část k látce. Práci otočíme na lícovou stranu a postupně přišpendlíme druhou polovinu lemovacího proužku k látce.

Pečlivě poskládáme roh, aby byla práce úhledná (složíme ho v úhlu 45°). Po našpendlení lemovacího proužku přišijeme co nejblíže okraji.

A máme hotovo :-) že to nebylo složité? Přesně tak....tak vybírejte, v kategorii Lemovací proužky si vybere každý :-)