Košile, košile a zase košile....
Posted by KK on
Máte problém s nekonfekční postavou? Nabídka obchodů vás nezaujala a toužíte po zajímavém a neobvyklém kousku? Chcete nechat vyniknout svojí originalitu? Ušijte sobě (nebo jemu) košili dle své představy!
Košile nemusí být nutně nudným kouskem pánského nebo dámského šatníku. Košile může vyjadřovat vaši osobnost a volba správného materiálu, střihu a designu o vás prozradí mnohé. Jaký může být jiný hravý a zároveň klasický kousek pro letní počasí než košile (halenka) s krátkým rukávem. Že už vás to také napadlo, ale myslíte si, že ušít košili je tak obtížné, že se do toho raději ani nepustíte? Zkusili jsme to sami a zjistili jsme, že to tak těžké není, pokud použijete kvalitní střih a materiál.
Náš tip: pokud máte nekonfekční postavu, budete si muset střih trochu upravit (zkrátit, prodloužit, rozšířit) ale ani to není velký problém, na internetu najdete pár rad jak na to.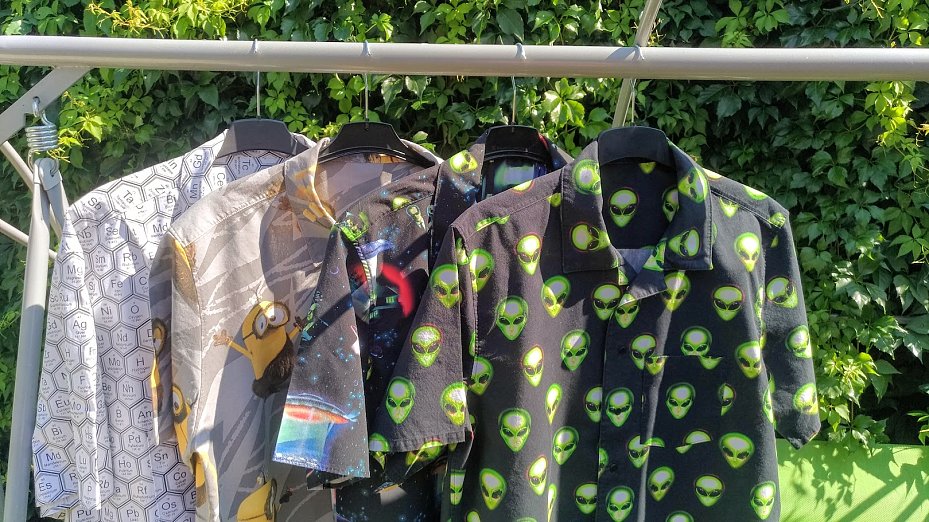 Vyzkoušeli jsme dva typy pánské košile. Běžný klasický střih a takzvanou "hawaiku". Rozdíl mezi nimi je ve zpracování límečku a knoflíkové légy. Jednodušší na ušití byl střih "hawaika" ale určitě doporučujeme vyzkoušet si více střihů a najít mezi nimi ten "nej". Střih si můžete koupit "hotový" v kategorii Střihy nebo najít inspiraci včetně návodu a střihu v naší nabídce časopisů. Další variantou jsou elektronické střihy, kterých je na internetu nepřeberné množství.
Materiál je důležitý nejen svým designem nebo barvou, ale také komfortem nošení či údržby. Přírodní materiály se při prvním seprání trochu srážejí a jsou mačkavější, ale pro letní nošení jsou vhodnější alternativou než syntetika. Vyzkoušeli jsme šití košile z Americké potištěné bavlny , protože nás nadchl originální UFO design, a byli jsme nadšení. S materiálem se báječně pracuje, pro šití je ideální, střih jsme bez problémů polohovali i na americkou šíři 110cm, minimálně se sráží a navíc se i skvěle žehlí :-).
Náš tip: ušijte si nejprve prototyp - tedy první verzi košile z levnějšího materiálu, na kterém si vyzkoušíte šití podle střihu, polohování střihu na látku a také to, aby výsledek perfektně sedl postavě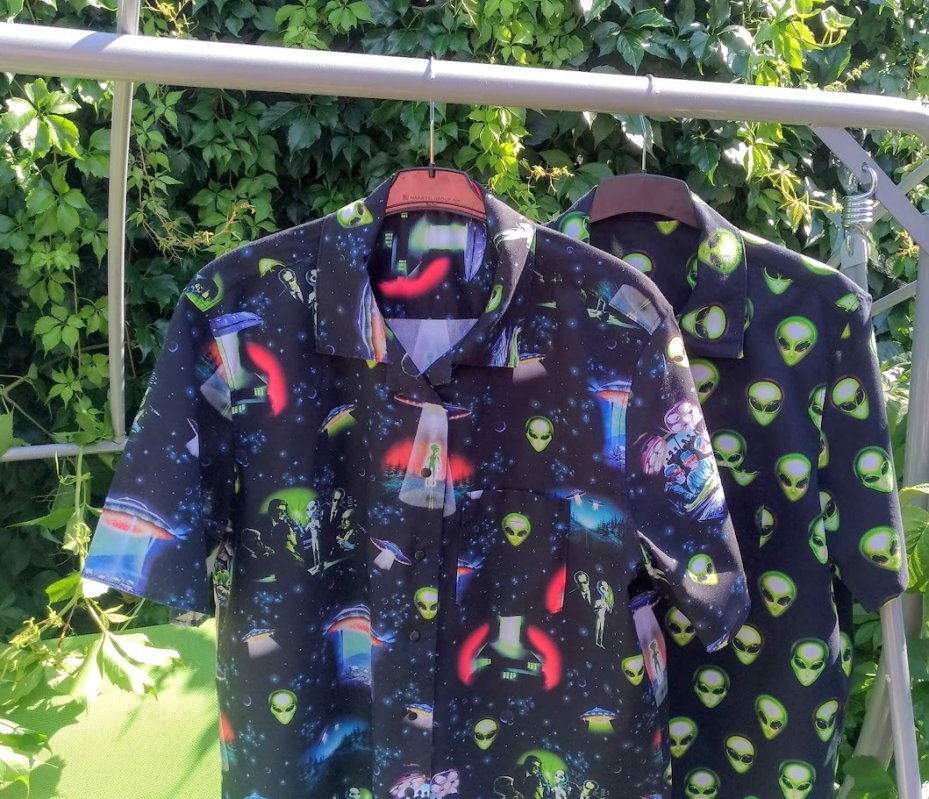 Další alternativou, kterou jsme vyzkoušeli je potištěná bavlna šíře 140cm, kde máte na výběr skutečně nepřeberné množství vzorů od těch "klasických" až po hodně nečekané vzory pro skutečné "fajnšmekry" :-)
Nebojte se popustit uzdu fantazii a bořte zažitá klišé. Experimentujte a buďte osobití a originální.
Vypracovat všechny ty knoflíkové dírky? A pak našít tolik knoflíčků? Ani to není potřeba. Jako alternativu k běžným knoflíčkům jsme zvolili originálnější a rychlejší alternativu - kovové druky, neboli stiskací knoflíky. Už dávno nejsou v nabídce pouze stříbrné a zlaté, vybrat si můžete z více barevných variant včetně elegantní černé a nebo třeba staromosazné. Ale košile nemusí mít zapínání jen ve formě knoflíků, originální a nadčasové je také zapínání na zip , určitě ho vyzkoušíme pro další model.
Nalákali jsme vás? Jdete zkusit ušít košili? Báječné, držíme vám palce a až budete mít hotovo, podělte se s námi o výsledek svého šití na našem Facebooku, nebo nám pošlete fotku na info@dumlatek.cz :-)